FOR THE LOVE OF STEVE PERRY
This website is a tribute to Singer, Songwriter Steve Perry and his amazing career with Journey and as a solo artist.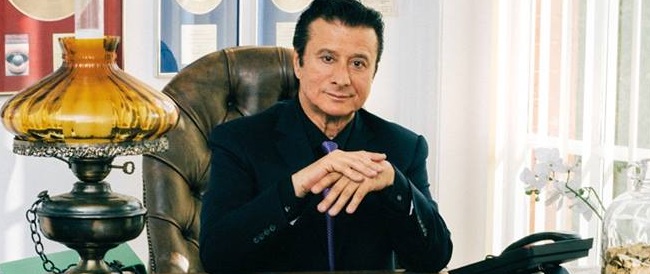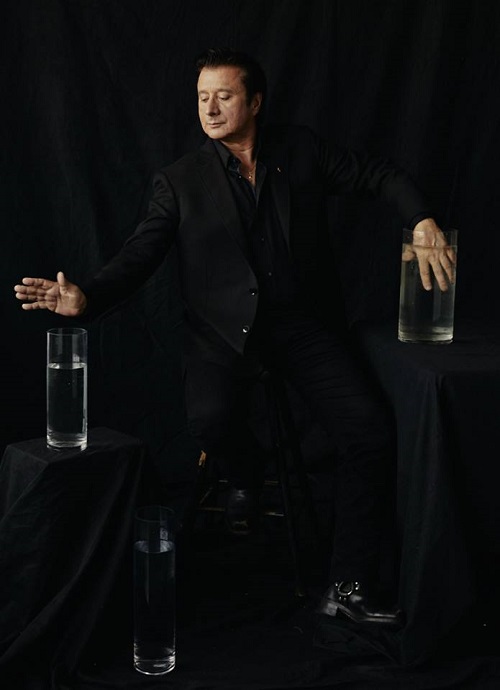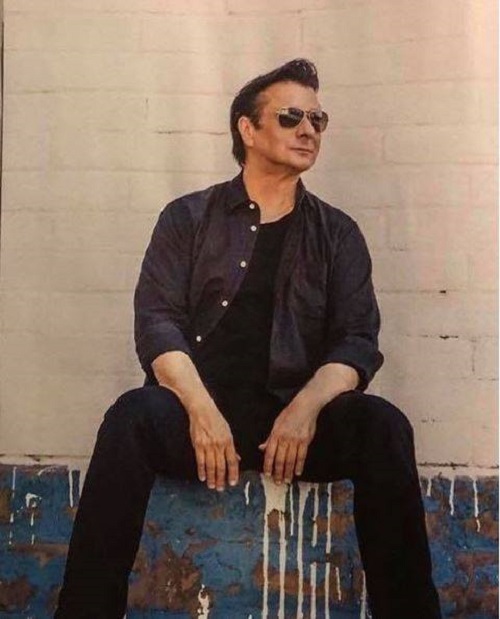 Dana Farber
10-11-18
Good Morning America
10-08-18
10-13-18
10-01-10
Steve Perry and Mr. Shovel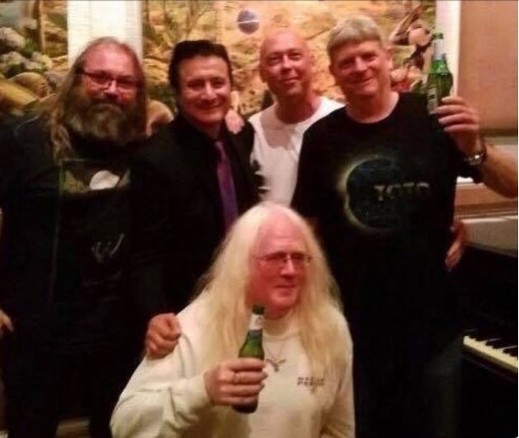 10-01-18
Steve Perry and Steve Jones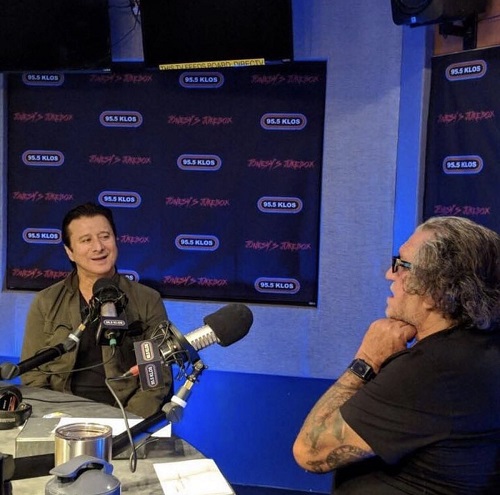 09-29-18
Steve Perry and Joe Walsh
September 20, 2018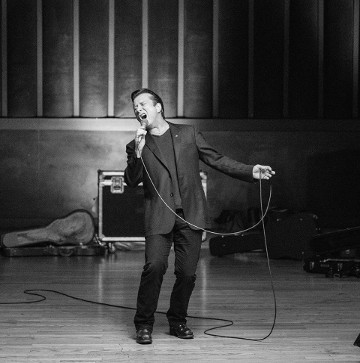 Steve at Abbey Road Studios 9/14/18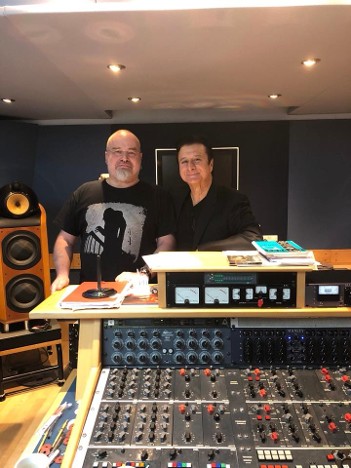 Steve at London Airport 9/13/18
Watch Steve's new single No More Cryin'
Steve's New Album Art Cover (Click picture to go to steveperry.com}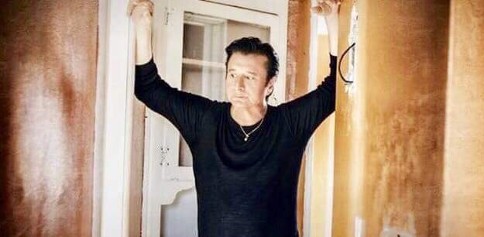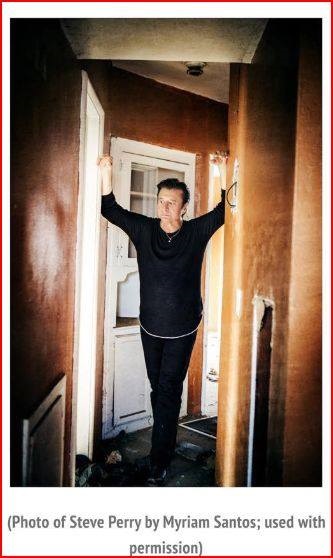 Listen to "No Erasin'" and Pre-order the album on iTunes.com
Release date Oct. 5, 2018
Steve has finally opened his official website. Follow the links to pages.
Steve did an Interview with Tom Barnard today 08/15/18. CLICK HERE to listen to the interview
(Photos from the Interview)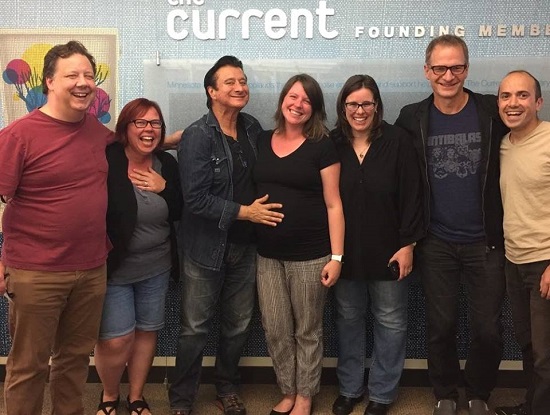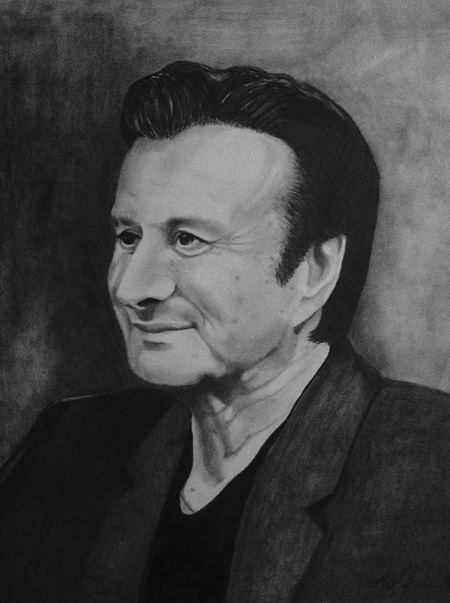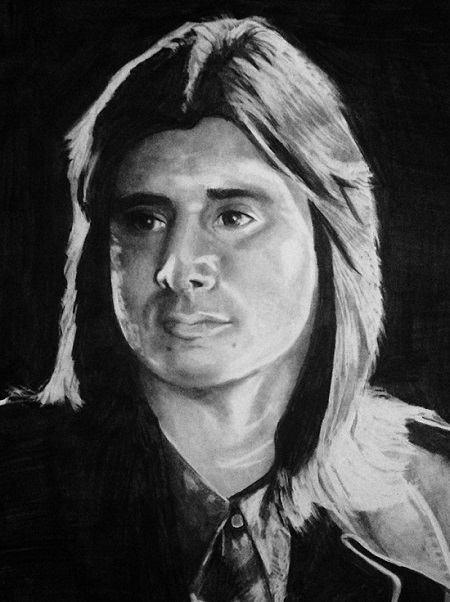 Steve Perry Interview on October 7, 2018 on CBS Sunday Morning Show!
Steve Perry with Tracy Smith and the CBS Sunday Morning crew - July 19, 2018
07-19-18
Zach Rodriguez is listening to Steve Perry (Journey) with Dan Humason at Fox Hanford - Hanford, CA
I met Rock & Roll Hall of Famer Steve Perry at the Hanford Fox today! ?
Very nice, humble and funny guy.
A well known television production company conducted an interview with the ex-JOURNEY frontman in downtown Hanford with locations at the theatre, Superior Dairy and the Hanford Civic Auditorium.
Keep an eye out for a touching tv special about Steve Perry and his NEW upcoming studio album later this year! ?
#hanford #foxhanford #steveperry #dontstopbelieving #faithfully
For the Love of Strange Medicine – July 19, 2018 – 24th Anniversary
For the Love of Strange Medicine is the second studio album by Steve Perry, released on July 19, 1994 through Columbia Records. After a lengthy 8-year hiatus following the breakup of Journey, Perry returned to the spotlight with this album. The first single "You Better Wait" received radio airplay and reached the top 10 on the Billboard Mainstream Rock Chart, but only peaked at #29 on the Hot 100 in the U.S. The album was followed by a tour in 1994-1995. For the Love of Strange Medicine was certified as gold by the Recording Industry Association of America (RIAA) for shipments of 500,000 units in the United States, as of September 1994.
The song "Young Hearts Forever" was written by Perry as a tribute to his late friend, Thin Lizzy frontman Phil Lynott, who died in 1986.
BACKGROUND
Journey released their ninth studio album Raised on Radio in 1986, which was Steve Perry' sixth album as lead singer. The band subsequently went on a hiatus in 1987. After the split Perry "didn't feel the passion" for writing and recording music, but eventually began writing songs for the album with musicians Lincoln Brewster, Paul Taylor, and Moyes Lucas.
Notes (2006 re-release)
"If You Need Me, Call Me" is a 1994 re-recording of a song of Perry's pre-Journey band, Alien Project.
· "One More Time" is an unreleased out take from 1994.
· "Can't Stop" and "Friends of Mine" are previously unreleased tracks from the 1988 unfinished Against the Wall album.
Escape Album – 37 years old today; July 17, 2018
Escape (stylized as E5C4P3 on the album cover) is the seventh studio album by American rock band Journey, released in 1981. It topped the American Billboard 200 chart and features four hit Billboard Hot 100 singles – "Don't Stop Believin'" (#9), "Who's Crying Now" (#4), "Still They Ride" (#19) and "Open Arms" (#2) – plus rock radio staple "Stone in Love." It was certified 9x platinum by the RIAA and sold over twelve million copies worldwide, making it the band's most successful studio album and second most successful album overall behind Greatest Hits.
Background and writing

Escape was the band's first album with keyboardist Jonathan Cain who replaced founding keyboardist Gregg Rolie after he left the band at the end of 1980. The album was co-produced by former Lynyrd Skynyrd sound technician Kevin Elson and one-time Queen engineer Mike Stone, who also engineered the album.
Reception and legacy
Mike DeGagne of All Music retrospectively awarded Escape four-and-a-half stars out of five, writing, "The songs are timeless, and as a whole, they have a way of rekindling the innocence of youthful romance and the rebelliousness of growing up, built from heartfelt songwriting and sturdy musicianship." Colin Larkin awarded the album four out of five stars in the 2002 edition of the Virgin Encyclopedia of Popular Music. Contemporary Rolling Stone reviews were less favorable. The first review of 1981 by Deborah Frost marked Journey as heavy metal posers and the music in the album as easily playable by any session musician. In the 2004 edition of their album guide, Rolling Stone awarded the album two-and-a-half stars out of five, which was nonetheless an improvement from Dave Marsh's one star rating in the 1983 edition of the publication. In 1988, Kerrang! readers voted Escape the greatest AOR album of all time. The following year, the magazine ranked Escape #32 in "The 100 Greatest Heavy Metal Albums of All Time". A 2000 Virgin poll saw the album voted the 24th greatest heavy metal/alternative rock album of all time. In 2001, Classic Rock ranked the album #22 in "The 100 Greatest Rock Albums of All Time". In 2006, the same publication recognized the importance of the album's contribution to popular music in the 1980s by including it in their "The 200 Greatest Albums of the 80s" as one of the twenty greatest albums of 1981. Q magazine ranked Escape 15th in its "Records it's OK to Love" in 2006.
An Atari 2600 game based on the album, Journey Escape, was released in 1982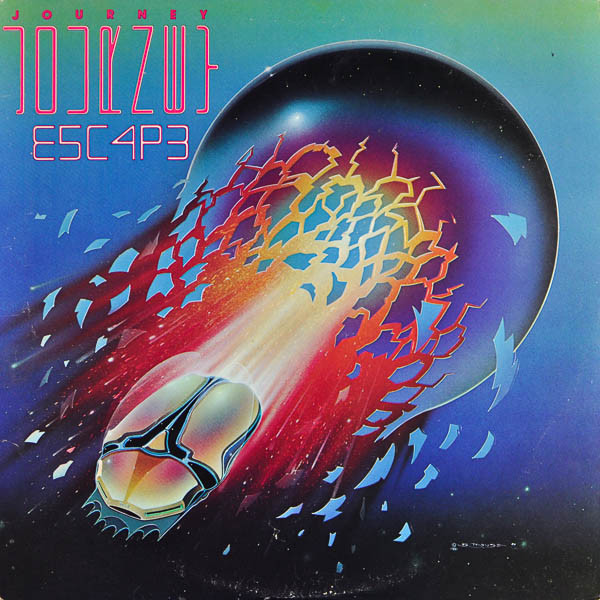 Photos By Robert Garren
Thank you Robert!
May 20, 2018
Steve surprised Gabby Barrett on American Idol after she sang Don't Stop Believin'
Steve, Gabby Barrett and Ryan Seacrest
Katie Perry, Lionel Richie, Steve Perry, Luke Bryant and Gabby Barrett
Steve in the audience of American Idol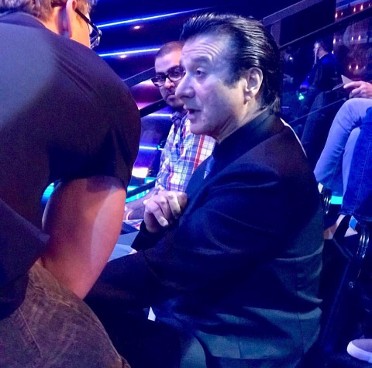 Steve and Lionel Richie Backstage of American Idol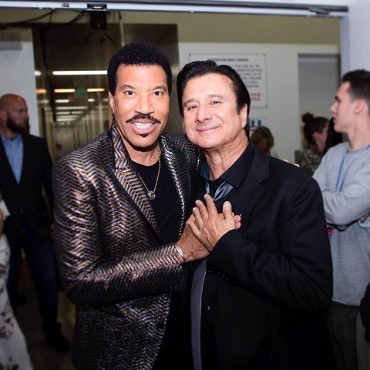 Backstage on American Idol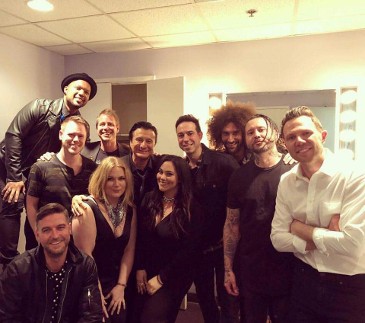 March 18, 2018
Sebastian Bach and Steve Perry
Steve Jones and Steve Perry
Vincent Gallo, Slim Jim Phantom, Pauly Shore, Steve Perry and Steve Jones
Drawing by Nancy Peveler Strickland
January 24, 2018
You never know who's looking at Belfast Based Rock Band Bad Reputation's Facebook page. (@badreputationbelfast) Steve Perry of Journey seems to be enjoying our version of his song "Dont Stop Believing". Truly humbling ? we love Steve and Journey!
This is genuine and shot in LA on Wed Jan 24th 2018
(Click link below to view video)
//www.facebook.com/badreputationbelfast/videos/1421297877978869/
Happy Birthday Steve Perry

Steve I wish you love. May your birthday be as special as you have always been to us.....your fans. For all the joy and happiness you have given me I hope that it comes back to you in folds. May someone's music fill your heart and soul as your music has filled my heart and soul. Through your presence you continue to inspire. Your positive look on life and music continues to shine through all the years. You inspire the music in me and for that I THANK YOU from the bottom of my heart. You truly are one of music's greatest gifts and a gift I treasure and cherish. On January 22, 1949 a musical gift was born but more important on that day a beautiful mother and father were given the greatest gift......a beautiful son.
~Louise Long and Pat Brightly
Well, it's that time of year again....we all gather together to wish Steve Perry the happiest of birthdays.
It's been a while since I've drawn him (and this one was done by special request...thanks for the suggestion!) due to my life getting in the way, but there is never a day that goes by without my thinking of him and hoping he is well. I want to wish him continued happiness and health today as I sit, listening to my favorite original vinyl versions of Evolution and Departure. I listen through just slightly scratching annoyances, to his amazing vocal range coupled with the (as he himself put it) "the magic of Neal Schon's guitar", and I am transported back in time when music was everything to me... and I thank him... for bringing us the best of what he had...has....so that our days could be a bit brighter, a bit more exciting (just listen to that voice... you know what I mean), a bit more confirming as to why he was placed here on this day. Happy Birthday, Steve... many continued blessings to you now and forever!
~Nancy Peveler Strickland
photo is copyright and property of Nancy Peveler Strickland 2018 and cannot be used or shared without her expressed permission.
It will soon be Steve Perry's birthday (Jan. 22). Want to wish Steve Perry a Happy Birthday? We have set up a place for you, his fans to do so. Just click on the link below. *dislcaimer: For the Love of Steve Perry has no affliation with Steve Perry or his management. We do know if Steve Perry will see or read the birthday messages posted. We are just giving the fans a place to wish Steve Perry Happy Birthday!
//ftlosp.proboards.com/

November 29, 2017 Steve Perry and Mark Rojas. **Photo Credit - Mark Rojas
November 28, 2017 Chevy unveiled their 2019 ZR1 Corvette coupe and convertible in Los Angeles and Steve Perry was on hand for the event.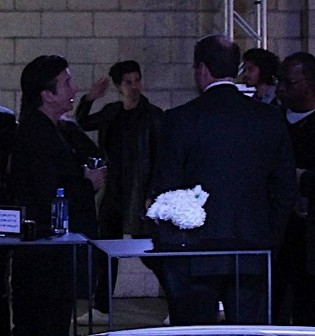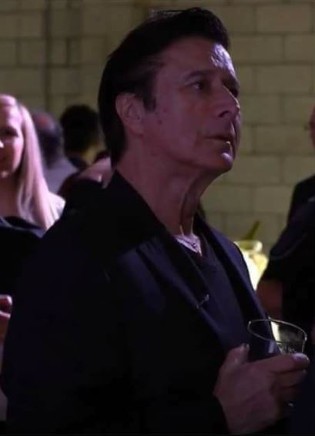 We here at For the Love of Steve Perry would like to send our deepest condolences and prayers to the family of June Foray. June was the voice of "The Bullwinkle Show's" Rocky the Flying Squirrel and his nemesis Natasha Fatale of Boris and Natasha fame and she was the voice behind Looney Tunes' Witch Hazel, Nell from "Dudley Do-Right," Granny in the "Tweety and Sylvester" cartoons and Cindy Lou Who in Chuck Jones' "How the Grinch Stole Christmas," among many others. June Foray passed away July 27 at the age of 99.
In 2013 on Steve Perry's 64th birthday he met June and said: "the best gift he received was meeting June Foray. She's a cartoon voice over legend –- I love all of her work! She was and is the voice of Rocky the flying squirrel and many other female voices on The Rocky and Bullwinkle Show, and she also did many voices for Disney, Hanna-Barbera and Warner Brothers cartoons, too! When I was a kid, she was my hero. Her characters were gentle and loving voices –- voices I so needed in my childhood. It's safe to say that her work got me through many tough times as a kid."
June Foray was apart of all of our lives and she will be greatly missed.
Steve Perry and Fans May 27, 2017 at the Orange County Open Market
Congratulations to Journey on their Induction into the Rock And Roll Hall Of Fame
Photo Credits: GettyImages.com & wireimage.com
Courtesy of Fan Asylum
Steve Perry's (formerly of Journey) 1986 American Motors Jeep CJ7 Laredo is up for sale. It has been stored in his private car collection warehouse since he first bought it brand new. A Journey's Greatest Hits double disc vinyl album will be personalized by Steve himself to the new owner of this vehicle. All proceeds will go to charity.
For more information click on the photo below.
Drawing by Nancy Strictland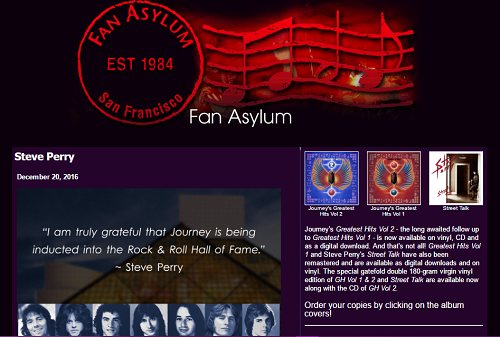 Congratulations to Journey on being 2017 Inductee in the Rock & Roll Hall Of Fame!