FOR THE LOVE OF STEVE PERRY
This website is a tribute to Singer, Songwriter Steve Perry and his amazing career with Journey and as a solo artist.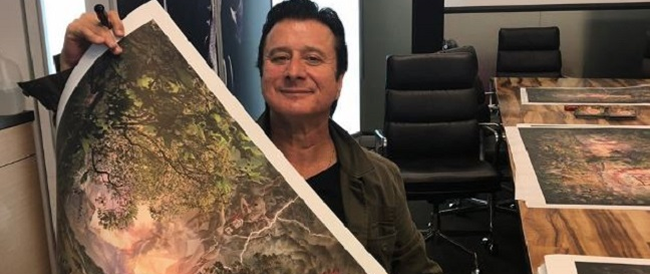 2014 was quiet a ride for Steve Perry. We have his amazing journey laid out right here for you.
Steve Perry on stage with The Eels in St. Paul, MN at The Fitz on May 25, 2014
A few Articles about the May 25, 2014 performance




Retired Rock Legend Wows St. Paul Crowd
May 27, 2014

MINNEAPOLIS (WCCO) — Rock history went down Sunday night at St. Paul's Fitzgerald Theater and no one in the audience knew it was coming. Journey's Steve Perry performed in public for the first time in nearly two decades.

Fans, like Seth Hynes-Marquette, thought they'd signed up only to see indie rock band Eels, until the lead singer made an announcement.
"They're just like here's a guy who hasn't performed in 20 years and he decided to show up tonight and Steve Perry walks out," Hynes-Marquette said.

Ali Lozoff captured the 10-minute surprise performance on her cell phone from the sixth row. "It was one of the most surreal and surprising things I've ever seen on a stage," Lozoff said. Perry sang three songs. One of them was an Eels song and the other two were Journey classics, "Open Arms" and "Lovin, Touchin' Squeezin'."

Tom Campbell, a production manager at The Fitz for 22 years, said Perry seemed right at home on stage and off.
"He definitely was really into it. He was very excited, he was walking around pacing backstage," he said.
Perry is longtime friends with members of the group Eels, Campbell said, and has been attending their rehearsals for the tour. He had even rehearsed this performance, showing up at 10 a.m. the day of for sound check.

Perry retired from Journey in 1998. His St. Paul live performance, believed to be the first in 19 years, is trending on social media.
"The whole country is talking about it now," said Hynes-Marquette.

A national talker for rock fans, but for those there that night, an unforgettable moment in music history.

"As somebody who as a tween-ager sang those songs along on vinyl record, it was a memory I wish cherish," said Lozoff.
But why did Steve Perry pick St. Paul? Some speculate that it's because the Fitzgerald — home to "A Prairie Home Companion" — is a historic theater. Others just speculate that Perry likes St. Paul.

CBS Minnesota




Eels on Perry: We Didn't Know If He Would Show
NEW YORK May 28, 2014 (AP)
By MESFIN FEKADU AP Music Writer

Associated Press
When Steve Perry performed alongside the Eels this week — a first for the reclusive singer in two decades — the band's frontman wasn't even sure it would happen.
Mark Oliver Everett said in an interview Wednesday that he and the former Journey leader have become good friends and that Perry is an Eels fan. He said Perry has attended Eels rehearsals over the years, but he was still surprised when the singer told him he would perform at their show in St. Paul, Minnesota, on Monday.
"Even right up to the moment he started singing on the stage, I was prepared for it to not happen," Everett said.
Perry surprised the audience with the indie rock band at the Fitzgerald Theater. They performed the Journey songs "Open Arms" and "Lovin', Touchin', Squeezin'" and "Open Arms," as well as Eels' "It's a (Expletive)."
Everett, 51, said his relationship with Perry is an odd one: He knew 65-year-old Perry was a fan of his work and attended his concerts, but he didn't feel the same about Journey's music.
"He used to send word back to me ... that he wanted to meet and it was a little bit of an awkward thing for me because when I was younger, one thing I never really appreciated was Journey," he said. "And I felt like I didn't know what to say to him ... so I just avoided it for years."
Everett said film director Patty Jenkins, a friend of Perry's, advised they meet. Everett then invited Perry to his Sunday croquet matches five years ago, and a friendship grew.
Everett said that his band mates would play Journey songs at their rehearsals hoping Perry would sing, and eventually he budged.
"He finally couldn't take it anymore and he grabbed the microphone and started singing," he said. "And at the moment I got a huge appreciation for Journey. ... Now when I hear Journey on the radio I turn it up."
Perry performed with Journey until the late 90s. His former band mates have continued with singer Arnel Pineda, who they discovered on YouTube.
Eels, currently on an international tour through July, released its 11th album last month.
Everett said Perry "is also working on something" when it comes to new music. They haven't collaborated, though he would be open to it.
"I think I can produce an amazing Steve Perry record, but there's no way because he would drive me insane," he said.
But there is a chance they could perform again onstage.
"Personally, I would love that, but that's all up to Steve," he said. "All I can do is try to not stop believin'."
ABC News






Rock legend Steve Perry returns to the stage
May 27, 2014
WENN

Former Journey frontman Steve Perry made a triumphant return to the stage on Sunday night when he joined rockers Eels for impromptu, pitch-perfect renditions of classics "Open Arms" and "Lovin', Touchin', Squeezin'" at their Minnesota show.
The concert at the Fitzgerald Theater in St. Paul marked Perry's first public performance since the late 1990s. The singer quit Journey in 1986 but briefly reunited with the group a decade later. His name has been back in the news recently after he revealed he was discussing a possible comeback with his former bandmates.
However, guitarist Neal Schon insists a reunion is no longer a talking point, explaining, "I think when Steve mentioned that, when somebody put him on the spot and asked him, we had been [communicating] with email, just saying, 'Hello, I hope you're well,' all that. "He opened the door and shut the door. It wasn't anybody but him that created all that media for a second, and so we do want to reassure the fans that no, [current frontman] Arnel [Pineda] has not gone anywhere. He's still right here with us."
MSN Entertainment




Ex-Journey Singer Steve Perry Sings Publicly for First Time in Decades
Singer joins Eels on stage in St. Paul to belt out two Journey classics
By Jon Blistein

Reclusive former Journey frontman Steve Perry returned to the stage for the first time in 19 years, joining alt-rockers Eels for a handful of songs during their second encore at a St. Paul, Minnesota gig Sunday night. As Eels frontman Mark Everett said by way of introduction, Perry walked away from the rock star life "because it didn't feel right," adding, "And for some reason only known to him, he feels like tonight in St. Paul, Minnesota, it feels right." (Read full article)
Rolling Stone





Steve Perry wows crowd after 19 year absence from stage
FoxNews.com

The crowd at the Fitzgerald Theater in St. Paul Minn on Sunday night were pleasantly shocked when former Journey lead singer Steve Perry came out on stage as a surprise guest performer with indie-rock band The Eels.
As first reported by Yahoo! Music the 65-year-old singer who hasn't performed in public for nearly twenty years sang along to the Eels' song, "It's a Motherf---er," in that immediately distinctive high-alto register.
"I love that song," Perry explained to the 1,000 capacity crowd. "When I first met (Everett, the Eels' lead singer) I said someday I wanted to sing that song. And tonight is the first time I've ever sang it." He then thrilled the audience by launching into Journey classics, "Open Arms" and "Lovin' Touchin', Squeezin".
According to Us Weekly Perry's long absence from the stage can be explained by a myriad of health problems. He's suffered arthritis, undergone hip replacement surgery, had two melanoma removal surgeries and has also been mourning the passing of his girlfriend Kellie Nash, who died of breast cancer in 2012.
But his powerful voice is as culturally relevant as ever. "Don't Stop Believin'" was the powerful coda to the final "Sopranos" episode and featured in the first season of "Glee."
Fox News




Steve Perry Sings Live On Stage For The First Time In Nearly 20 Years In Appearance With Eels
The Huffington Post | By Ed Mazza

Former Journey frontman Steve Perry turned up at a performance by the alt-rock band Eels and did something he hasn't done in nearly two decades: He sang on stage, with a band, in public.
Perry performed the Eels song "It's A Motherfucker" in front of roughly 1,000 lucky fans at the Fitzgerald Theater in St. Paul, Minn., as part of the encore. (Read the full article)
The Huffington Post





Don't Stop Believin': Steve Perry Finally Returns to the Stage!


Steve Perry, one of the most elusive frontmen in rock, hasn't performed with Journey since 1991, or performed solo concerts since 1995. But don't stop believin', Perry fans. The rock icon finally returned to the stage Sunday night… to join indie-rock band the Eels at the 1,000-capacity Fitzgerald Theater in St. Paul, Minn.
Perry showed up at first to sing the Eels' 2000 cult hit "It's a Motherf---er," his voice instantly recognizable and sounding surprisingly strong considering his well-publicized health problems (ongoing arthritis, hip-replacement surgery in 1998, two melanoma-removal surgeries in 2013). Joked Eels leader Mark Everett upon hearing the Fitzgerald audience's thunderous response: "They don't applaud like that for me! I guess I gotta disappear for 25 years!"
Perry explained to the bewildered and elated crowd: "I love that song… When I first met [Everett], I said someday I wanted to sing that song. And tonight is the first time I've ever sang it."
It's possible that Perry related to the profanity-laden but poignant tune due to its subject matter. Many of Everett's compositions have been inspired by tragedies in his family, including his mother's death from cancer; Perry lost his girlfriend to cancer in December 2012. Lyrics to the sad ballad include: "It's a motherf---er/Getting through a Sunday/Talking to the walls/Just me again/But I won't ever be the same."
After covering the Eels song Sunday, Perry joked, "I don't know why the Eels don't do my music," to which Everett quipped back, "We were just waiting for you!" The band and Perry then thrillingly launched into the Journey classics "Open Arms" and "Lovin', Touchin', Squeezin'," the latter turning into a joyous crowd singalong.
While the time for a Journey comeback has seemed ripe for a while now, especially given the ubiquity of "Don't Stop Believin'" in pop culture (Glee, Sopranos, American Idol, Rock of Ages, etc.), and rumors of a Journey reunion circulated not too long ago, it still doesn't seem in the cards. Journey's Neal Schon told Billboard earlier this month that such rumors were untrue.
However, Perry's return to the spotlight this week may indicate that he is finally ready to follow up his solo sophomore effort, 1994's For the Love of Strange Medicine. Back in 2010, Perry told Classic Rock magazine that he had more than 50 original compositions waiting to be recorded in his home studio in Del Mar, Calif., although the following year he admitted to the Associated Press that his perfectionism was making him stall, saying: "I'm so hard on myself. I play these sketches in my computer for friends and they say, 'Gee whiz, the vocal's beautiful.' I hear, 'It needs to be better.'"
It's possible that Perry's long-awaited solo comeback may feature another alt-rock band besides the Eels, too: Late last year, Rolling Stone reported that he was working with SoCal rap-rockers AWOL Nation. Perhaps Perry won't remain AWOL for long, so watch this space.

Maximum Performance



Former Journey frontman Steve Perry joins Eels on stage at the Fitzgerald Theater in St. Paul
by Brett Baldwin · May 26, 2014

In this day and age, it takes a lot to surprise and delight a concert audience. But Mark Oliver Everett, AKA the man behind the moody indie rock band Eels managed to charm the heck out of a whole lot of people at the Fitzgerald Theater Sunday night, when he brought former Journey frontman Steve Perry to the stage for the third encore to sing a few songs.
They started out with the Eels song "It's a Motherf****r," which Perry has previously posted on an iTunes celebrity playlist, then proceeded to play two Journey hits, "Open Arms" and "Lovin' Touchin', Squeezin'".
The Current
The Eels with Steve Perry - May 31, 2014 Live at the Lincoln Theatre - Washington, DC
Steve Perry with The Eels in LA @ The Orpheum Theatre on June 11, 2014
Steve Perry talks Exclusively with Fan Asylum about his return to the stage. June 18, 2014
(Photo used by permission)
Steve Perry hit the stage for the first time since 1995, for three guest appearances with The Eels.

We had a quick chat with Steve and he shared his thoughts on the incredible and surprising events of the past few weeks.

Your three performances with The Eels really blew up social media! The YouTube videos have several million views, you were a trending topic on Twitter and just about all major media outlets picked up the story. Were you surprised by how big the reaction to you joining The Eels on stage was?

SP: Yes, I was very surprised. I woke up in St. Paul MN thinking I'd have a little YouTube leak about the gig and that would be it. After 20 years of not singing Live I really thought I could just stick my toe in the Waters of Love and then go home and start blowing the rust off my pipes……. but that's not what happened. So I flew out for a second one in D.C. and that was even more fun SO-- I did L.A. and that was even more FUN-NER!

After watching your performances with The Eels, we hope you are finally coming back to music. Your fans love you! How did it feel when you walked out on the stage again?

SP: I realized in a nano second as I walked on stage how much I had missed it. I had been away from Live performing for a long time. Walking out on that Stage was like having sex for the first time in 20 years. I didn't have a lot of stamina or restraint ……. but it still felt really AMAZING!!

You mentioned that you promised your late girlfriend Kellie that you would sing again. Is that what motivated you to join your friends The Eels on stage?

SP: The promise that was made to her was not that I would sing again but more emotional and personal in nature. Since promises are best fulfilled in secret, I think I'll keep them that way…….. but I am keeping my promises to her.

You've said in the past that you don't read reviews but hopefully you have seen the two amazing blogs posted by famed music industry analyst and critic, Bob Lefsetz. Did you know he was at the L.A. show and what did you think of his comments on your performance?
SP: I did not know he was in L.A. until after he wrote the article. I do not read reviews but I was encouraged by a friend to read his St. Paul and his L.A. ones. Holy Moly…….. I was stunned at some of his analogies and kind words. I wish I could have met him after the show. I can honestly say that in my lifetime I have NEVER had anyone say such truthful things about what Rock and Roll once was and should be and then include me in his words!?!

WTF…….Thanks Muucho Bob!!!!

Would you consider recording a cover of "It's a Motherfucker?" Your take on that song is so beautiful and heartfelt.
SP: Yes, I may record it. When I first met E…… I told him that I wanted to sing that song. It was a song that spoke to me back then and then after losing Kellie, it's speaking to me again on a whole new emotional level.

Would you consider collaborating on new music with E? You two would come up with some great material!
SP: I've known E for many years now and I think that's possible but we both have our own process of writing and we both understand and respect how that works. It can be a very personal, alone process that doesn't lend itself to collaboration. Just listen to "It's a Motherfucker" ……… The reason that song hits me so is because I can feel the solitude and loneliness that's in it and was required to write it.

The Sam Cooke song you did in D.C. and Los Angeles ("Only Sixteen") was amazing. How did you decide on how you were going to do it?
SP: I have always loved Sam's songs. A capella versions are something I've been wanting to do for a long time.

A huge part of the pleasure of seeing you on stage again is in witnessing your enjoyment of performing. Reaction from fans has been overwhelmingly positive! What's next for you?
SP: Honestly…...It's been many years since I've tried to sing at live levels. Many years ! I think I will start rehearsing at those Live Levels to blow the rust off these old pipes. That's my plan …….. After that is done, I'm sure more thoughts and ideas will appear.

Arnel said he would gladly step aside to let you return to Journey. What are your thoughts? Would you consider a Journey reunion?
SP: I don't know who or what would make Arnel want to say such a thing. He's their Lead Singer and I only wish him all of the very best! There is no reunion.

Loved your "SPelfie" at the Wash D.C. show. Would you consider doing more of those?
SP: I may do another "SPelfie" very soon.

Even if you don't do a full tour again, would you consider a few televised appearances?
SP: I have been approached about TV but I have never been a big fan of TV appearances. I think it's a loose, fun Rockin' evening in a room with fans that makes life worth living. TV never really represents that. I am getting a bit more open to the idea though……. more than I ever thought I would. So---- I will stay open minded about it and perhaps it will happen……. but I still have my deep opinions and thoughts about it……..

Of the three shows you played (St Paul, D.C. and L.A.), which was your favorite?
SP: The first one was in St Paul and I was truly a bundle of nerves. After 20 years, I guess that is understandable. But it certainly didn't stop me from having the time of my life! After St Paul, I thought, "Maybe that's it," but E said, "Why don't you come out to do another one," so I went to Wash D.C. That show felt so much more relaxed for me and I was able to concentrate more on singing. I think I sang bit better in D.C. than St Paul. That was my second gig in 20 years. Driving up from Del Mar to L.A. gave me plenty of time to remember how much of an industry town L.A. is and I was hoping my performance would be good enough. I honestly only wanted to sing again in front of people and so backstage I reminded myself there are several reasons why I wanted to go out there….some you know about and some you don't. But the bottom line is it's about rediscovering my love for singing.

Fan Asylum
July 05, 2014 New Twitter Pic
Jay DeMarcus and Joe Don Rooney of Rascal Flatts and Danny Briggs is a Pro Golfer from TN
July, 9 2014 New Twitter Pic
Steve Oliker @TEEDEEGuy At the Vatican with Steve Perry taking a selfie with me. Thanks for making my day and welcome back! - SteveO
July 14, 2014 - New Twitter Pics were posted by Imago Artis Tour
September 09, 2014
September 14, 2014
Steve Perry with Josh Abbott, Daniel Limbo and Fans at The Giants Game in San Francisco, CA
*Photo used by permission*
September 14, 2014
September 14, 2014
September 16, 2014
Steve Perry & Katie Perry's Band backstage at her show in LA - Photo by Adam Marcello
September 20, 2014
Steve attended the ADG 35th Anniversary Award Ceremony giving a speech honoring director and friend Patty Jenkins
September 24, 2014 - From: Fan Asylum *Photo used by permission*


I drove up for the Giants dodgers game last night. During batting practice, Hunter Pence walked up and gave me his bat and he pretended to sing with a bag of sunflower seeds as I pretended to bat! I'm pretty sure he sings better than I can hit. What a thrill! He's one of my fave players!

~SP

#SFGIANTS
September 24, 2014
September 24, 2014
September 24, 2014
September 24, 2014
September 29, 2014
October 08, 2014
October 08, 2014
October 08, 2014
October 08, 2014
October 14, 2014
October 14, 2014
October 14, 2014
October 14, 2014
October 14, 2014
October 16, 2014

Steve with Dan Sculman and Aaron Boone from ESPN
October 16, 2014
October 16, 2014
October 20, 2014

Steve Perry with the Navy Operational Support Center of San Jose CA
October 21, 2014
October 23, 2014
Steve Perry and Mike Marsh
October 24, 2014
October 24, 2014
October 24, 2014
October 25, 2014
Steve Perry on the balcony at AT&T Park
October 25, 2014
October 26, 2014
Steve with Barry Bonds
October 26, 2014
October 26, 2014
October 26, 2014
October 26, 2014
October 27, 2014
October 28, 2014
October 28, 2014
October 28, 2014
October 28, 2014
October 28, 2014
October 29, 2014

Steve Perry with actor Rob Schneider
October 29, 2014
October 31, 2014 - Giants Championship Parade
Miscellaneous 2014 Pictures
November 11, 2014 - Broadway musical "Kinky Boots" that was playing in Pantages Theatre in Los Angeles

Steve Perry, Steven Booth, Cyndi Lauper and Kyle Taylor Parker
Steve Perry and Steven Booth