FOR THE LOVE OF STEVE PERRY
This website is a tribute to Singer, Songwriter Steve Perry and his amazing career with Journey and as a solo artist.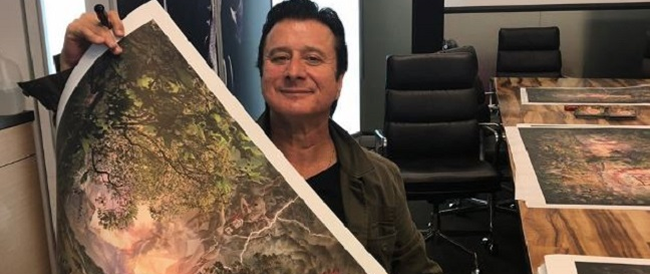 On January 22, 1949 in Hanford, California, a small rural town located in the San Joaquin Valley, Mary C. (nee: Quaresma) Perry (Perriera) and Raymond F. Perry welcome into the world their only child - a son whom they named Stephen Ray Perry. Stephen Ray Perry was born at 6:05 p.m. at Kings County General Hospital. As an infant Mary's parents, Steve's grandparents, left the island of Pico in the Azores Archipelago of Portugal with their daughter in their arms as they came through Ellis Island. Steve became the first Portuguese family member to be born in America. At 6 months of age Steve was baptized at the Heart of Mary Church of Hanford. Steve grew up fluent in both Portuguese and English as well as being a very energetic child. Steven recalled that early in his life at the age of three he knew that music was inside of him and that he and music were meant to be together. Both Mary and Raymond were singers and Steve remembers as a small child sitting with his grandmother as he watched his parents in a musical play and listened to his father sing knowing that is what he wanted to do: sing on stage and make others feel the music.

Mary and Raymond made their home in Hanford where Steve attended school. Although Steve admits he was not an attentive student his mom said he was "born in a hurry." The call of the road was too much for Raymond and when Steve was eight years old - he left - which was a devastating blow to Steve. Without the presence of his father, Steve still had the support of his mother and his grandfather, Manuel Quaresma, who became a very big influence in his life. It was then he turned fully to music. "When I was 8 my father left and he was everything to me. Music saved my life and it continues to do so." It was the San Joaquin Valley and Hanford and where he came from that Stephen credits for inspiring his love for music, and for his musical exposure and history. "I would as a kid sit and listen to anything on the radio I was so obsessed with music."

It was when Steve turned 14 that his mom met and married Marv Rottman and the family moved to the nearby town of Lemoore. Marv along with Mary continued to encourage Steve's musical talents. Steve's boyhood interest in music was fueled when he received a drum kit from his bookkeeper mom Mary. While growing up Steve was in many groups: The Nocturnes, Dollar Bills, Sullies, Pieces and eventually, Alien Project. Steve attended Lemoore High School where he was on the track team in the band, announcement committee, talent show and in the rally club. As Steve was in high school it was his mother Mary who managed the many bands and drove them to their performances. While Steve was with the Sullies as drummer and singer they competed with 80 other bands in the Calavaras County Battle of Bands and won. They also received the chance to play at the Hollywood Bowl promoted by the legendary Bill Graham. The Sullies met with a little success when they recorded an album that was distributed locally. It was not long after that the Sullies disbanded. While driving his mother's 1957 Ford Thunderbird in Pismo Beach Steve heard a voice and a song that would change his life forever. That was when Steve first heard Sam Cooke sing Cupid.
After Steve graduated from Lemoore High School in 1967, he would attend the College of the Sequoias in Visalia California. While there Steve took part in the choir, band and speech classes. Steve became first tenor in the choir and believes that the experience and training he received helped to shape his voice. Steve wanted to try and pursue a career as a DJ and went to San Francisco to take the F.C.C. test. In 1968 when Privilege was in Bakersfield recording at Gary Paxton's studio while Steve Perry was playing drums with a band called Chocolate Tunnel who were also recording there at the same time. Steve apparently liked Privilege and started hanging with them. After the recording was done Steve traveled with Privilege (in a non-player role) to Hollywood where Privilege opened for Ike and Tina Turner at PJs Club and other So-Cal gigs.
It was his hunger to sing and make others feel the music that after 2 years of college he decided to move to L.A. to pursue his career in music. As Steve moved to L.A. he started to get involved with rock bands and found that his ambitions and motivations were not the same as those he encountered. Steve wanted to make music and make musical statements while they wanted to party. While down and out in L.A. Steve needed to pay the bills and took a job at Crystal Studio's as a second engineer. "It kept me alive for a while but found out it was taking time away from what I was doing musically. I got a lot of exposure as to what was going on and I thought that was better than nothing. I felt like I was sort of spinning my wheels so I got out." "When I was younger my parent's were mad at me because I never learned how to write or read music."
In 1974 Andy Krawchuk from Privilege invited Steve to come join Privilege and Steve came up to Edmonton where they started rehearsals for an Eastern Canada tour. Steve shared drumming duties with drummer John Hannah as well as sharing vocal duties with then lead singer Randy Broadhead. They did some warm up gigs in western Canada including Edmonton with stops in Saskatchewan and Manitoba as they worked their way eastward. Craig Krampft with the help of Steve in 1977 formed a group called Alien Project. It was not long when Chrysalis and Columbia came knocking and wanted to sign the group to their label. Tragically, on July 4th 1977 on the eve of Alien Project's recording contract signing, their bassist, Richard Michaels, died in a car accident. This event hit Steve hard and he felt the band had a special magic and should not continue on without him and it was then that Steve decided to take a break from the music.

During Steve's musical absence he returned home to the San Joaquin Valley. Short on money Steve considered his options and took a job with his stepfather Marv building sheds on a turkey ranch. "I learned how important it is to take pride in your work and learned a lot about working with my hands." Steve confessed. With the loving unconditional support of his mother Mary, Steve decided to give music another try. Alien Project's demo tape and the song If You Need Me Call Me worked it's way into the hands of Journey's then manager Herbie Herbert.

When Gregg Rollie and Neal Schon left the famous group Santana; they formed in 1973 a group which they named Journey. Steve who had met Neal Schon in 1976 before Alien Project got together asked if they needed a lead singer. Determined that Journey was an instrumental outfit they declined the offer. After hearing the Alien Project demo Herbie Herbert insisted that Steve was joining the band and told the members to "Get used to it." It was Gregg Rollie who made the call asking Steve to join him and Neal in writing some tunes together. Steve contemplating what to do he asked his grandfather Manuel Quaresma what he should do about joining Journey on the road. "He said ya know, I don't know much about this music business you're in, but these Journey guys, I think they have jobs, and you need a job," he told Steve. So for one week Steve joined Journey on the road where he and Neal wrote the song Patiently. After traveling with the band for several months, Herbie Herbert asked Steve to join the band, ousting Robert Fleischman their current lead singer.

On October 1978 in Racine Wisconsin Steve stepped out on stage and performed Patiently. It was those sweet notes from the Infinity tour that changed Rock and Roll forever and changed the course of a band named Journey. The Infinity tour broke stadium attendance records and for the very first time launched Journey into the music world with the desired radio play they had so wanted and needed. Steve Perry's tenor voice and very impressive vocal range would lead Journey into a successful reign that would grow with each new Journey album release. In 1979 Evolution was released continuing where Infinity left off. Evolution became a great success garnishing Journey with it's first Top 20 Hit Lovin' Touchin' Squeezin' - a song that was based on Steve's personal experience of a love that had gone wrong. "She was out doing the wild thing." Steve commented on Behind the Music. With the mark of Evolution came the departure of Aynsley Dunbar and the recruitment of Steve Smith, who had more of a concept of playing behind a vocalist. 1980 completed the line up. Departure gave way to the live Captured Album and with that came Gregg Rollie's announcement to retire. It was then that ex-Baby's keyboard player Jonathan Cain was brought aboard to replace Rollie.

Steve and Jonathan began writing together and a partnership was formed. While driving to San Francisco from Bakersfield Steve got the idea for Who's Crying Now and sang the chorus into a tape recorder. Going right to Jon's house he and Steve finished the song that afternoon. Jon and Steve worked on another song that Jonathan Cain had written while in the Baby's titled Open Arms. When the song was finished it almost did not make the Escape album. Neal hated the song and the band was opposed to ballad's. Needless to say Open Arms did make the Escape album. The Escape album was to become the first and only of Journey's albums to go to #1 on the American charts. After a successful tour with the Escape album Journey returned to the studios to produce Frontiers. Frontiers garnished Journey with more hits which included songs Faithfully and Separate Ways and the success of the video Frontiers and Beyond.

It was after the success of Frontiers that Steve and the band started to feel cracks in the relationship. The many years of touring and being together were starting to show and the band took a lengthy break from each other. The members worked on other solo projects and Steve took this time to do his own solo project. In 1984 Steve took the opportunity to record his own solo album titled Street Talk. After six months in April 1984 Street Talk was released. The songs on the album were more of a personal and romantic level and had that Motown feel that Steve wanted on this album. Oh Sherrie became an instant hit climbing to #3 on the charts and was a song written about his relationship with long time girlfriend at the time Sherrie Swafford. After the release of Street Talk work began for Steve on another solo album which was to be titled Against the Wall. With Steve's duties to return back to Journey and changes in the music business the project was dropped. While on hiatus from Journey in 1984-85 Steve was asked to join other artists in the high profile USA for Africa Project and not only was honored with being a soloist on the song but also contributed a song that would be the flip side of the We Are The World single. It was something that affected Steve deeply.

In 1985 his long term relationship with girlfriend Sherrie Swafford became troubled and his mother Mary was diagnosed with a very serious neurological illness. Steve would fly and spend weekends with his mother as he contemplated whether to go on with Journey. His mother who could hardly speak whispered the words Journey and Steve fulfilled his promise to his mother and returned to Journey. On December 4th 1985 Mary Quaresma Perry Rottman passed away. Steve's biggest fan was gone.

It was not until 1986 that Journey completed Raised on Radio with many new changes. Steve Smith and Ross Valory were let go during the making of the album a decision that Steve feels should not have been made "Having had these circumstances in front of me today, knowing what I know now, I wouldn't have done it. " On April 21st 1986, Raised on Radio was released and a slimmed down Journey with Randy Jackson and Michael Baird embarked on a tour in August of 1986. After continuing conflicts and personal problems in Steve's life he decided that he could not continue and broke the news to Jon and Neal who Steve felt did not understand at the time. After the Anchorage, Alaska show Journey slowly disappeared without any explanation or even a fond farewell, leaving fans wondering what happened. Steve returned to San Francisco and the Bay Area in 1987 for the Bay Area Music wards to see Michael Bolton perform with Journey before slipping back out of the public eye.

For two years Steve did not listen to or write music. He went back to his life. Taking this opportunity, Steve dealt with family tragedies and rekindled friendships again. It was his time to find his life and find himself. "For the first year I did not write music or even listen to it and I didn't sing because I had nothing to sing about." Steve commented. "I just hung out with friends and tried to re-enter my life again. Finally after two years I started to write again and record music again and the years went by and I just had to stay away," commented Perry. During this time as Steve started to feel the hunger of writing again he began working with many artists which included Nuno Bettencourt and ex-David Lee Roth guitarist Jason Becker. It was not until the death of Bill Graham and a memorial concert in his honor in 1991 that Steve and Journey would once again perform together on the same stage as they performed Lights and Faithfully. That would be the last time Journey would perform together until 1996.

The need to write and create his own music was coming back to Steve once more and he was feeling the motivation again. "What finally made me make a record was that I realized that I am what I am and went back to what I am and did not let anything steer me away for that." Steve said. Cyndi Poon (Fan Asylum) put Steve in touch with ex-Winger guitarist Paul Taylor. "Don't you have anything better to do like write a song? Call Paul Taylor he wants to write with you." Cyndi told Steve. Steve made the call to Paul. It was Randy Jackson who put Steve in touch with Lincoln Brewster after hearing that Steve was looking for a guitarist. While rehearsing for drummers Moyes Lucus Jr. knocked on the door and asked for an audition to play. After hearing Moyes play they started jamming and writing a song. That is when the birth of For the Love Strange Medicine was born. Stephen's second solo album with the Strange Medicine Band. The lyrics on this new CD were all about truthful experiences and things that were going on in Steve's life. Steve paid respect and talk about his side of the insanity with his ex-band mates in the touching song Anyway that was included on the CD. It was Steve's way of expressing what was going on from his side of things and might have been one of the key factor's that helped reunited the band years later.


While Steve was touring with the Strange Medicine band in 1994-95 John Kalodner (JDK), Sony's Senior Vice President of A&R, started to contact the members of Journey in the hopes of a reconciliation. With John's coaxing and influence, luck was on his side and the members of Journey agreed to meet. Steve was missing the feel of being with Journey and singing with the guys that he agreed to contact Jon Cain who then contacted Neal Schon. "The song writing was still there it was instantaneous" Steve Smith recalled. Ross Vallory and Steve were brought back to reunite the Journey lineup everyone had known. Long time manager Herbie Herbert was let go and Irving Azoff was hired on as Journey's new manager. John Kalodner introduced to Journey producer Kevin Shirley and Trial By Fire was made. "We joked with each other that the good news is, not a lot has changed and the bad news is not a lot has changed." Steve recalled. Trial By Fire hit the US charts at #3 garnishing Journey another top 10 album and a song that was Grammy material. The single When You Love A Woman was nominated for a Grammy; something Journey never had before in their musical career. "I was actually dancing around my house. I couldn't believe it." Steve said. Talks of tour ensued but Steve's own reservations of a long term Journey were evident. While getting ready for a tour Steve took some time and went to Hawaii. While on a hike he developed some health issues that eventually stopped the band in it's tracks and halted a tour. "I was coming down the mountain and I was experiencing excruciating pain." Steve said. After seeing a series of doctors it was determined that Steve had a degenerative condition that affected his hip. Trying to avoid surgery Steve and his doctors tried to find a cure which took time. Something Journey did not feel they had.

Unfortunately Neal and Jon wanted to continue on and asked Steve to allow them to go on with a new line up. "Don't crack the stone! Don't fracture the name Journey." Steve appealed to them. It was then that Steve Augeri replaced Steve Perry as lead singer of Journey.

In 1998 Steve had the surgery on his hip that he and his doctors had hoped to avoid years before. Soon after that came the release of Greatest Hit's + 5. Introducing the fans to some unreleased material (that was to be contained in his second solo album after Street Talk which was not to be) that was suppose to be the Against the Wall album. Steve also lent his singing vocals to the Quest for Camelot animated movie as King Arthur singing the song I Stand Alone. Steve in 2002 worked with Tommy Tokioka and Laid Law featuring Nikki Sixx lending his vocals to the single I Wish You Were Mine from Tommy's CD Happy To Be Living and Send My Baby Home a single from Laid Law's First Big Picnic CD. While visiting his friend drummer Steve Ferrone in 2003 Stephen once again lent his vocal's to Jeff Galoub's song Can't Let You Go which was released on Jeff's new CD Soul Sessions. "I've got Steve Perry singing on my album, how cool is that?" Jeff Galoub stated.

2003 had Steve working once again with John Kalodner on the release of a musical DVD for Journey fans featuring the classic line up. The DVD would contain classic Journey video footage. Journey's Greatest Hit's DVD 1978-1997 which was released on Nov. 25, 2003 and has since gone platinum without any publicity at all but by word of mouth by the faithful fans. Later on in 2003 through his attorney, Steve received a letter from Actress Charlize Theron asking for permission to use the song Don't Stop Believing in a new movie directed and written by Patty Jenkins titled Monster. After getting in touch with Patty Jenkins, Steve got the okay and permission from Neal and Jon and the song Don't Stop Believing was added to the movie and soundtrack. Steve was invited to L.A. to watch them dub in the song to the movie and from time to time Patty would ask Steve what he thought about pre-recorded music in the film "So I presented her with many options from different artists past and present. I really enjoyed participating in this side of the project." Steve said. "Later on Patty had insisted on giving me Music Consultant Credit. I was stunned." Said Perry. Since the release of the movie Monster Steve has lent his support to the film by appearing at the L.A. and New York Premiers for the movie in Dec. 2003 and January 2004. On Nov. 21, 2003 Stephen paid Arrow FM and Uncle Joe Benson a visit and joined Uncle Joe Benson in the studio live on air for one hour. In Dec. 2003 Uncle Joe's radio program Off the Record featured a new one on one interview with Steve where he talked about life, Journey, the movie Monster and the new DVD that had been released.


2004 saw Steve not only at the New York Premier for the movie Monster but also at the American Film Institute's Salute to Meryl Streep where the AFI honored film director Patty Jenkins. Steve still leads a private life below the radar in 2005. Perry will be working with John Kalodner on another Journey DVD, the Houston Summit, which will be released in 2005.

On January 21, 2005, Journey was awarded a star on the Hollywood Walk of Fame. A ceremony was planned with speeches and hundreds of fans in attendance. Also in attendance was Steve Perry - much to the surprise and complete joy of everyone. Steve led his former band mates in thanking the fans for their love and support.

October of 2005 Steve Perry experienced every man's dream when he was invited to attend Game One of the World Series with the Chicago White Sox. Steve Perry became their good luck charm and Journey's hit "Don't Stop Believin'" became there anthem. Steve Perry then had the honorable privilege of being asked to help the Chicago White Sox celebrate in Chicago and was asked by the team mates to sing "Don't Stop Believin" to a Chicago crowd of thousands as they welcomed home there World Series Champion Chicago White Sox.

In the fall of 2006 Street Talk, For the Love of Strange Medicine and Greatest Hit's + 5 Steve's solo works were re-mastered and contained some previously unreleased material.

On June 10, 2007 the Soprano's Season 6 final episode "Made In America" aired. As the pictured faded to black Journey's "Don't Stop Believin'" ended the long running HBO series after 6 seasons. David Chase got the okay from Neal Schon and Jon Cain and needed the okay from Steve Perry. Steve held out till the last moment wanting to know how the song was going to be used in the show's finale. After swearing not to reveal the show's ending David Chase explained how the song was going to be used. It was then a 3 days for the airing of the finale that Steve Perry gave his okay for "Don't Stop Believin'" to be used. Steve Perry in August of 2007 produced Guff's album Symphony of Voices which was released by Go-Kart records and featured the unreleased Journey song "I Can See It In Your Eyes." Steve Perry's voice is also on the track.

September 24, 2008 Steve Perry made a telephone appearance on the Dennis Miller radio show.

On July 20, 2009 on the Canadian Broadcasting Centre (CBC) radio one Jian Ghomeshi host of the show "Q" interviewed Steve Perry by phone on the longevity of "Don't Stop Believin'". While during the interview Steve Perry talked of writing again….rumors are afloat that new music from Steve Perry will be forthcoming soon. These are just rumors as Steve Perry has yet to confirm this publicly.

In February 2010 Steve was interviewed by U.K. radio station Planet Rock. in October of 2010 Steve talked sports and the SF Giants on KNBR 680 sports radio in San Francisco. 2010 turned out to be a great year for Steve and his San Francisco Giants as they won the World Series. Steve joined the San Francisco Giants in November as San Francisco threw them a parade. Before the parade Steve was interviewed by ESPN on how he felt about the Giants winning the World Series. Steve was overjoyed with much emotion as he talked about the San Francisco Giants.

In 2011 Steve worked on the long awaited Journey's Greatest Hits 2 the follow up to Journey's Greatest Hits 1. On May 2011 Steve was with Patty Jenkins as she was editing a Lifetime Channel breast cancer special called "Five." It was during the open scenes that Steve saw her smile. Steve asked Patty to scroll back so that he could see her smile again. It was then that Steve had found her…the love he had waited all his life for Kellie.

The beginning of 2012 started off with another great achievement when in Jannuary of 2012 Steve and the members of Journey received a plaque stating that"Don't Stop Believin" was the biggest selling classic rock digital download track! To help raise money for Parkinson Disease Steve auctioned off autographed albums on Ebay. Steve was interviewed by Don Mandis for 850 KOA news radio. In February Steve played guest DJ sharing his playlist on San Diego's 100.3 The Sound. Steve visited Rob Thomas of Match Box 20 in the studio. March Steve attended the Grammy rehearsals and Steve lent his background vocals to Cassidy Catanzaro song "Follow theFreedom" from her recent album Boheme. Steve Perry who keeps under the radar still maintains a busy life that he so enjoy's. In December of 2012 tragedy and heartache struck Steve when he lost his girlfriend of 1 ½ years to cancer.

2013 saw Steve out and about in studio's with friends and attending the premiere for the movie Pain and Gain in Los Angeles. Steve also visited the set of the TV show See Dad Run. Steve was also asked to participate in photographer's Christopher Ameruoso's book Shades of Elvis. In September Steve attended the City of Hope Gala to raise money for cancer and also donated autographed items to the event which raised a lot of money. Steve had his own cancer scare when a routine mole was taken off his face and after testing was melanoma skin cancer. After 2 surgeries to remove all the skin cancer Steve was now cancer free.

As 2014 came it had been 20 years since Steve had been on stage or even sang live that fans got a surprise of a lifetime when Steve joined good friend Steve Ferrone on stage at the Guitar Center Drum Off finals in Los Angeles and sang the classic song "Pick Up The Pieces". Steve attended the Need for Speed movie premiere In Los Angeles. Steve was also in attendance at Beverly Hills Lawyer of the Year Award where his long time attorney Lee Philips was honored. Fans got the moment of lifetime when after 20 years Steve finally returned to the stage briefly as he joined the group the Eels on stage in St. Paul Mn., Washington D.C. and Los Angeles where he sang Lights, the Eels song It's a Mother F*****, Open Arms and Lovin' Touchin' Squeezin' . It has been 20 years since Steve took to the stage to sing and once he got his music feet grounded he gave his fans the performance of his life and proved once again that he still had the music deep within his heart. After all those years his fans were still there waiting…welcoming him home with open arms as Steve himself was once again Home.
2015 has seen Steve doing what he loves to do; enjoying life and rooting for his beloved San Francisco Giants. In early April Steve was present at the San Diego Padres ball park to root for the San Francisco Giants on opening day. His presence that day was captured in images and featured in the USA Todays Sports Images. On the Giants opening day in San Francisco at AT&T Park Steve did a 10 minute interview with Buster Olney for ESPN radio. Since then Steve has beeen out and about enjoying his life on his terms attending small events and meetings fans by chance.
In December 2015 Steve called into radio station KSWD-FM in Los Angeles to wish Uncle Joe Benson happy birthday as he (Uncle Joe Benson) was at the radio station. While chatting Steve announced that he spent much of 2015 in the studio recording new material, while joking he has been in the studio for years. "The truth is, I finally went into the studio in March, and I've been in there ever since, just trying to finish this record. I'm looking forward to finishing it, put it that way. I want to get it done probably in the early part of this coming year." Perry said in a chat with KSWD-FM in Los Angeles.
In October 2016 Journey fans heard the news that they had been waiting for; Journey was on the ballot for the Rock N Roll Hall of Fame. This year once again the Hall of Fame would offer fans the opportunity to officially participate in the induction selection process as fans were allowed to cast their votes for Journey. Steve told the fans that he was so grateful that the music they created while together had survived the test of time. December brought the fans the greatest news Journey was going to be inducted into the Hall of Fame in April 7, 2017. Steve expressed how truly grateful he was that Journey was being inducted into the Rock N Roll Hall of Fame.

April 2017 came with speculation as to whether Steve would attend the ceremonies as there was no cofirmation as of March 2017. On April 7, 2017 the Rock N Roll Hall of Fame induction ceremony was history in the making as Steve Perry welcomed Neal Schon in a hugged embrace onto the stage as Gregg Rollie, Ansley Dunbar, Steve Smith, Ross Valory and Jon Cain also came to the stage to thank the fans and those who helped them along the way. Steve in his speech said while living in Los Angels there was one instrument that was flying above the entire city of Los Angels and that was the magic fingers of Neal Schon's guitar. Steve also thanked former Journey manager Herbie Herbert for believing in him. Steve also thanked his former band mates for the music they made and thanked current lead singer Arnel Pineda for keeping the music alive and thanked many others instrumental in his career with Journey including Fan Asylum. Steve then thanked the fans for their tireless love and consistant devotion. "From my heart, I must tell you, I must tell you...I've been gone a long time I understand that but I want you to know that you have never not been in my heart, I want you to know that and I love each and every one of you. Thank you so very much!" Steve expressed to the fans ending his speech.

2018 began with fans wishing Steve Perry a happy birthday in January through social media. In March Steve along with friends attended a personal birthday party for rock singer Sebastian Bach. Fans got a bonus on American Idol on May 20 as Steve was in the audience as Idol contestant Gabby Barrett sang Don't Stop Believing. Steve impressed with the Idol contestant gave his blessing and encouragement on her rendition of the Journey song. July 19 marked the 24th anniversary of For the Love of Strange Medicine. In September Steve attended a cancer fundraising event at Dana Farber in Boston Mass., where he helped raise money for cancer and where his foundation also made a donation to the fight against cancer. On October 5 fans got the news that they had been waiting 24 years to hear: Traces Steve's third solo album in 24 years had been released. It debuted at #16 on the charts. The month of October saw Steve promoting the new album as he appeared on the television morning shows of Good Morning America and The CBS Sunday Morning Show. Steve also hit the satellite and radio circuit promoting his new album appearing on Jonesy's Jukebox and radio stations on the east and west coasts as well as in England. In December 2018 fans got another musical surprise as Steve released his version of the Christmas song Have Yourself A Merry Little Christmas. 2018 was a year the fans will never forget.
In January 2019 Steve attended the premiere of I Am the Night directed by Patti Jenkins. March Steve did his a video for the single We're Still Here. It was his first official video in 25 years. April 11 Steve joined a panel as he broke down the grieving proccess at Pop Conference 2019 on how music makers and writers confront loss and grief in their personal lives and in their music. April 16 Steve was interviewed by Dan Rather for his show The Big Interview on AXS TV. Steve talked about his life growing up and his time with Journey and took Dan into the studio to discuss the making of Traces. July 4th Steve was the guest DJ on 1035 The Fox playing his favorite songs all 4th of July. August saw Steve enjoying his San Francisco Giants, being with friends and meeting fans.
On September 15, 2021 Steve's thoughts were on snow and mistletoe with presents under the tree, as he announced that he would be releasing his very first holiday album THE SEASON on November 5. Steve hopes it brings the fans back to those golden moments with their loved ones and gives them that feeling of joy, connection & comfort that we all miss so much. September 15 Steve launched an auction for the Junior Giants program in San Francisco. The program which provides a free, noncompetitive baseball and softball program for nearly 24,000 kids, ages 5-18 years old, in more than 85 leagues in underserved communities auctioned off his personal car a 1979 Mercedes 450 SL, custom made touring tuxedo tails jacket and a signed copy of his new 2021 holiday album THE SEASON. The auction which ended on September 23 raised over $50,000.

April of 2022 saw Steve Perry and Journey's iconic song "Don't Stop Believin" get inducted into the 2022 class of the National Recording Industry. A great honor for Steve and Journey.
July 2022 was busy for Steve as Separate Ways was remixed by Steve Perry, Bryce Miller, Bobby Gum, Adam Finkelstein and Tony MacCubbin for Season 4 of Stranger Things. A 40 year old song got a new life and Steve was so please with the outcome and enjoyed remixing the song.
In December 2022 a digital version of Steve's 2021 Christmas album "The Season" included two new songs. "Maybe This Year" and "This Christmas"
Looks like 2022 was a year of great accomplishements and new songs for many fans to enjoy.
February 24, 2023 Steve celebrated and took part in Sirus XM's Beatles channel birthday tribute to George Harrison's timeless music.
March 24, 2023 Steve went the Catalina Jazz Club to see former band mate Steve Smith & Vital Information.
April 12, 2023 Steve did a duet with Dolly Parton as she chose to sing Open Arms on her next album due out soon. Steve then worked with Chris Lord-Alge to do the final mix moves to the song.
April 18, 2023 Steve joined forces with the Irish folk group The High Kings for their new single, where he sang some background vocals on the single.
April 28, 2023 The High Kings new single The Streets of Kinsale with Steve on background vocals made it's debut.
For Steve Perry this one thing remains constant: his love for music, the fans and Sam Cooke.
Mary's little boy who was born in such a hurry has fulfilled his musical dream and his promise to his mother continues.






© Copyright 2020 - 2030 All Rights Reserved - Bio was written by Pat Brightly exclusively for "For The Love Of Steve Perry.com" and may not be used on any other site without permission.