FOR THE LOVE OF STEVE PERRY
This website is a tribute to Singer, Songwriter Steve Perry and his amazing career with Journey and as a solo artist.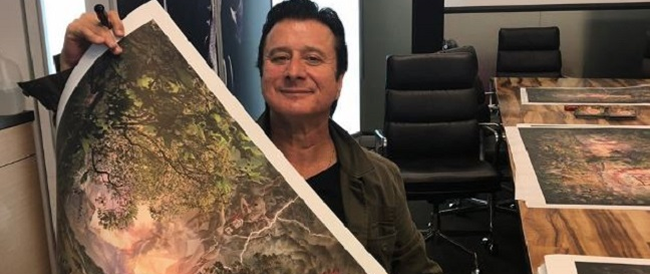 An interview with Steve Perry from Glamour.com
That Time I Talked to Steve Perry About Journey, "Don't Stop Believin," and Singing at My Wedding (What?!)

Thank you, Rob Light.

Now, most of you don't know Rob Light. Before last night, I didn't even know Rob Light. But now I consider him one of the coolest people in the world (and not just because he managed to raise over $5.5 million for City of Hope this year, which is the leading research and treatment center for cancer, diabetes, and other life-threatening diseases). No, in this case, it would be because without him being one of the most powerful and respected men in the industry (he's head of music and a managing partner at CAA), I wouldn't have had the opportunity to meet and interview the one person I honestly never thought I would—former Journey frontman, Steve Perry.

I don't remember exactly when I became so obsessed with Journey and Steve Perry. I never even saw him in concert, and I think I was all of seven when he left the band. My parents were never die-hard Journey fans. I remember being so happy that The O.C.'s Ryan Atwood loved them just as much as I did. Whenever it was though, I wondered why it took me so long to notice them in the first place. And although "Don't Stop Believin'" is and always has been one of my favorite songs, it was songs like "Faithfully," "Separate Ways," and "Ask the Lonely" that really got to me.

But since Steve Perry decided to take a break from the music industry—he recorded such hits like "Oh, Sherrie" and "Foolish Hearts" as a solo artist post-Journey—he's stayed out of the limelight. So you can only imagine when I saw his name on the tip sheet for the City of Hope Gala. Forget about it, I was so there. (Oh, did I forget to mention that Stevie Wonder would be performing and classic musicians like Heart, Michael Bolton, and more were attending?)

But aside from being a huge admirer of Journey and Steve Perry, I've also had another reason to want to meet the "The Voice," as he's called. I've been telling people, half-jokingly now for years, that Steve Perry is going to sing at my wedding one day—he just doesn't know it yet.

But here's the thing: I'm not engaged or even dating anyone seriously right now! But I always thought no pressure because honestly, when was I going to meet Steve Perry anyway? Funny how life catches you off guard when you least expect it.

Glamour: Steve, it is so nice to meet you! I have to tell you, I don't even know how to start this interview off, but to tell you that I'm having a bit of a freak-out moment right now. You are the one person I've always wanted to meet and interview.
Steve Perry: What?!

Glamour: Seriously?! You're the Steve Perry!
Steve: I find that fascinating! I don't understand that!

Glamour: See, I wish I grew up more in the '80s…
Steve: I wish I grew up more in the '80s too! [Laughs]

Glamour: By the time I was old enough to actually go to concerts and appreciate your voice and what you did with Journey, you weren't with the band anymore.
Steve: Right, I understand.

Glamour: Your voice is just incredible. And you're going to love this part because this is probably the most embarassing thing out of it all…
Steve: [Laughing hysterically]

Glamour: But here's the thing: I've been saying to my parents, to friends, to celebrities—I said it to Jerry O'Connell and the guys on the set of We Are Men yesterday—that, "Steve Perry is going to sing at my wedding one day. He just doesn't know it yet."

[Let's pause for a second while I realize what I've just said to Steve Perry. The fact that he's now hearing the ridiculous statement that has come out of my mouth. And the fact that he's not running away either. I, on the other hand, think that I might. OK, let's continue.]

Steve: You never know! [Laughs]

Glamour: No way. Don't tease me like that! I'm serious!
Steve: You never know!

Glamour: I'm not even engaged, but I've ridiculously convinced myself that if I could just meet you, I could one day try to convince you to sing at my wedding! That, and Sprinkles cupcakes is going to make the cake. And I am so NOT one of those girls that plans their wedding!
Steve: You've got work to do!

Glamour: Sometimes I'll run in to people that are like, "Oh, I've met him, or I knew him," and I said, "No, but do you really know him because there's going to be a day when I need to get in touch with him for real."
Steve: Well, we'll talk! Really, we'll talk!

Glamour: Well, you didn't say no, so we're off to a good start! But seriously, your voice is just insane. How is your voice by the way?
Steve: It's out of shape! [laughs] I haven't sang much. That's the problem. But I'm starting to warm it up.

Glamour: OK, so let's say you're in the car and one of your songs comes on. Do you sing along to it?
Steve: No. Because to sing that stuff, I gotta warm up! It's kinda high. And I'm older too. It takes a lot of work.

Glamour: Oh, I don't buy the age thing. Stevie Wonder is going to sing tonight and look at him.
Steve: But he never stopped. I stopped. I stopped for years. I stopped to get away from it all. We were kinda big when I stopped. I was fortunate to have had an amazing career. I just didn't want to do it anymore. My mother had passed away the year before and family stuff was going on, and I just didn't want to miss life. There's a whole thing called life, and it's not just about the entertainment industry. There's more to life than singing and touring. The beautiful thing about this business is if you're fortunate enough to get in it, it's amazing, but it's a choke chain if you don't know how to put the brakes on for yourself because it keeps rolling like crazy. The management kept on booking us, and I had to get off [eventually].

Glamour: Was there a favorite song that you loved to perform live?
Steve: They were all some of my favorites, they really were. I would say that "Separate Ways" was a strong song I liked doing. I loved "Send Her My Love." That had some vibes to it. "Open Arms"…I remember the first time we played "Open Arms," and Neal [Schon] won't remember this, but he didn't want to play the song because it was a ballad and it was going to be our fifth single. I said, "We gotta play it." So we played it, and as soon as Neal played the opening notes, the whole place screamed. Neal was very happy. It went from that to "that song really kicks ass," even though it was a ballad!

Glamour: "Faithfully" is one of my absolute favorites.
Steve: Jonathan Cain wrote that song all by himself, which you can tell by the lyrics is very emotional because he was going through a tough time with his wife, and they ended up breaking up. So the song is really strong.

Glamour: I know the band has Arnel [Pineda] now, and he's great, but there is no one like Steve Perry.
Steve: Well, that's very sweet. It's a great gig, and he's doing great.

Glamour: With all respect to Arnel, would you ever consider down the line any type of reunion or is it too hard to even think of?
Steve: It's too hard to even talk about to be honest with you. It's too hard to talk about. But God only knows. One thing about life that I realize more and more is you can never say never, although it's probably better to say no.

Glamour: I totally get it. Now, City of Hope. Tell me about your relationship with Rob Light and your involvement with the organization.
Steve: When I did my solo album, Rob Light was the one person who stood by me and convinced promoters that Steve Perry's solo album/solo tour is something they want to embark on. He convinced a bunch of people to take a chance, and they did. So because of Rob Light, people took a chance on me.

Glamour: On a personal note, my condolences because I know you recently lost a very important person in your life to cancer, and I know you had skin cancer earlier this year.
Steve: It's getting better. As long as it's off my body, I don't care [if there is a scar].

Glamour: Listen, I'm the sunscreen queen, bringing it with me on every red carpet I go to.
Steve: Let's do an ad for sunscreen! It's just not safe anymore to be in the sun anymore. It's not safe.

Glamour: Exactly. So lastly, I know you joined forces with the Chicago White Sox in 2005 when they won the World Series and adopted "Don't Stop Believin'" as their anthem through it all. Then last year, you sang it for the San Francisco Giants, who beat my beloved Cardinals in the NLCS. So…
Steve: Here it comes!

Glamour: So which team are you singing it for this year?
Steve: A-ha! I knew it! Well, I'm shocked the Dodgers are doing so well. I'm shocked. Now, they did load the team up. They bought some great players because they have the budget, but I don't know. And listen, I'm not a Dodgers fan. I'm a Giants fan, and that's a rivalry, but I gotta tell you, the Dodgers are really kicking some ass and they have a really good shot at this.

Glamour: They play "Don't Stop Believin'" at Dodger Stadium, so I'd like to think that since you're a Giants fan, if they came to you and asked there's no way you could say yes. That's like if the Cubs asked me to do something for them. It's a non-negotiable! (Sorry Cubs fans, I do love Chicago!)
Steve: Do you know that the Dodgers play [Don't Stop Believin'] in the middle of the 8th inning?

Glamour: Yes! Yes!
Steve: Do you know when I leave? [Laughs] I leave at the top of the 8th! I wanna beat traffic too! [Laughs]

OK, so then this happened.

Let me just say, Steve could not have been cooler. Beyond down-to-earth, so sweet, and incredibly gracious. That, and the fact that he didn't run away from me speaks volumes.

And then Randy Jackson came along and this conversation took place.

Glamour: Do you remember when I told you I wanted Steve to sing at my wedding back when we were at the Clive Davis party? And then you screamed out on the red carpet, "Find this girl a boyfriend now! Steve Perry needs to sing at her wedding!"

Randy Jackson: Dude, I love him. Don't you love him? [Randy starts singing the lyrics from "Faithfully"..."Highway run..."]

Glamour: Oy, look what I've created. Anyway, I asked, and he said we'll talk!
Randy: Dude, he said he'd perform at your wedding?! Is he well? Is he sick? [Laughs]

Glamour: Are you jealous? Do you want to perform too?
Randy: So me and Steve can perform at your wedding, but you're not getting married yet?

Glamour: Right. But getting you guys seems like the hardest part, so if I can cross that off my list, getting the guy should be a bit easier, right?
Randy: Yeah, we need to find you a guy!

Later, I found myself telling Michael Bolton that I listened to "Time, Love and Tenderness" at the gym the other day. (I wish I was kidding, but I'm not). That was after I gushed to Heart's Ann and Nancy Wilson that I was belting out "Never" on the way to the event. It was like 1985 decided to show up tonight, and turned me into a five-year-old.

*Steve donated three guitars at last night's City of Hope event, which he will sign personally. He also donated 40 vinyl greatest hits and Steve Perry solo's on 180 gram virgin vinyl. He'll personalize them for fans who end up purchasing the items. Visit City of Hope's website to find out more.

*On a somewhat related note, PBS' "Independent Lens" series picked up a documentary about Arnel Pineda's road to becoming Journey's current lead singer. Don't Stop Believin': Everyman's Journey is set to make its TV debut Sept. 30 (check your local PBS listings).

Are you a Steve Perry fan? Which musician would you most want to sing at your wedding?