FOR THE LOVE OF STEVE PERRY
This website is a tribute to Singer, Songwriter Steve Perry and his amazing career with Journey and as a solo artist.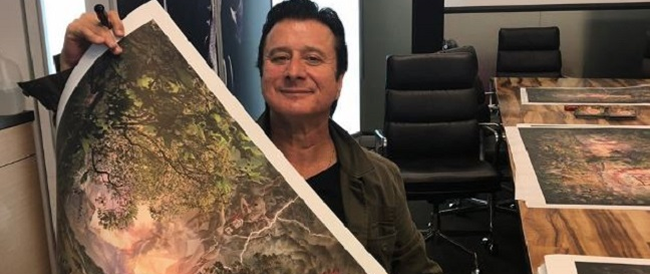 Some photos courtesy of Google + Photos *Photos used by permission*
Escape (stylized as E5C4P3 on the front of the album) is the seventh studio album (and eighth overall) by American rock band Journey, released on July 31, 1981. It topped the American Billboard 200 chart and features four hit Billboard Hot 100 singles - "Don't Stop Believin'" (#9), "Who's Crying Now" (#4), "Still They Ride" (#19) and "Open Arms" (#2) - plus rock radio staples like "Stone in Love", "Mother, Father" and the title track "Escape". It was a massive success, being certified 9x platinum by the RIAA and selling over twelve million copies worldwide, making it the band's most successful studio album, and second most successful album overall behind Greatest Hits.
Escape was the band's first album with keyboardist Jonathan Cain who replaced founding keyboardist Gregg Rolie after he left the band at the end of 1980. The album was co-produced by former Lynyrd Skynyrd soundman Kevin Elson and one-time Queen engineer Mike Stone, who also engineered the album.

An Atari 2600 game, Journey Escape, was made based on the album.