FOR THE LOVE OF STEVE PERRY
This website is a tribute to Singer, Songwriter Steve Perry and his amazing career with Journey and as a solo artist.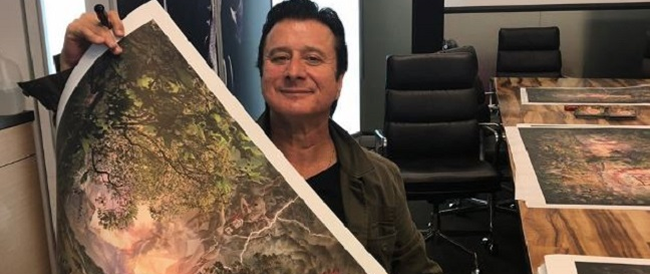 Journey Force Interview: Honest Passion


With the beginning of a new year come plans for several new and exciting projects for the members of Journey. We recently spoke with Steve, who filled us in on what he's been up to and what lies ahead...

Force: What have you been doing to keep yourself busy lately?

Steve: Hum... what have I been doing? Well, I started off by riding my motorcycle a lot, but lately I've been spending most of my time with my grandfather, who lives on the coast of southern California. He's 88 years old and quite ill. It just seemed more important to me to spend time with him instead of going directly into the studio or writing music. It felt like the thing I wanted to do. He's even more ill right now than he was, so I'm still going down there an awful lot. You just happened to catch me at home for a few days before I'm heading back down there. I have written a lot of material, and I'm going to start writing again here pretty quick. I'm planning to do another solo record at some point in time.

This past summer, I had an opportunity to sing with the Everly Brothers. They were playing at Great America. Larry Londin, who did some work on the last Journey record and my solo project, was on tour for a short time with them. I went to see them; Don and Phil are really nice guys. They asked me to come onstage. I was really shocked because I've been told they have never asked anyone to come onstage. They asked me to come on and sing 'Let It Be Me'. It was the same song I did at Neal's wedding, but this time we did three part, and I sang the third part above.. It sounded like the Everly Brothers, the Sons of The Pioneers, and Journey combined. It sounded great and it was really, really a highlight and a lot of fun because I hadn't sung in front of people since the tour ended.

Force: Do you have a timetable set for your solo project yet?

Steve: I'll probably start working on it within the next month. I've been trying to find the honest passion to do it. I feel that no matter what type of music anyone decides to go after, or any project I want to be involved in, it has to have the passion to it. If there is no passion for the music, there's no need to make it. Right now, the passion is starting to come.

Force: Is that what you need before you start writing tunes... an inspiration?

Steve: I need the hunger and the passion to really do it. I don't just want to jump in there because it's time, or people want it. It's great that people are saying they'd really like to have me do another album, but it really has to come from the heart or it doesn't sound right, whether it's a solo project or something from Journey.

Force: So, right now you are basically just formulating your plans for what you will be doing in the next year.

Steve: Yeah, like I said, I'll probably start doing a record because I'm getting pretty passionate for music again.

Force: Do you think Journey would get together for special projects now and then, like for a benefit concert?

Steve: I really can't predict anything. It's just too difficult to know where everyone will be at any one given time. That's too much in the future, and I really have to live in the present second right now. I think Jon and Neal are doing the same thing. I spoke with Steve Smith and went out to his house, and he has a studio there now. I had no idea that he had built a full-fledged, functional recording studio in his house. I listened to his next solo record that's coming out, and I was really excited. He's playing incredibly! At the present time he's on the road with a group called the Jazz Explosion Super Band, with Stanley Clarke, Allen Holdsworth, Bernard Wright, Randy Brecker and Airto. They're touring with a super rock/jazz fusion experiment. It's really sounds incredible. It was so great talking to him and listening to his record.

Force: Are you still flying helicopters?

Steve: Yes, I've been flying helicopters all year. I've been flying over Yosemite, and this time of year it's truly an incredible sight. I've flown to the coast a few times, down to southern California. I'm riding my Harley, and that's been wonderful. Thanks to some friends of mine. I recently got to contact some great old musicians that I hadn't seen in years. It was such a big surprise to me; we all got together and jammed at one time. It was fantastic... on my 35th birthday. Speaking of my birthday, I'd like to send a personal message to everyone who send those wonderful Christmas and birthday gifts and cards. I have seen them all, and I really, really appreciate them. I don't get a chance to personally contact everyone as much as I'd like to, but I did recently call a Force member who sent me this beautifully embroidered Musician's Prayer. I called her on the phone one day to thank her. It just so happened that, for some odd reason, she had it framed in the same material that I had recently used to frame a photo of my grandfather and grandmother. It was a photo of them when they were 35 years old, and I found it in my mother's garage. I had it framed in the same material, so it was very coincidental that when she sent me this really nice prayer, the frames were alike. I also recently phoned the man who bought my red '63 T-Bird and he said it's running better than ever. He's really pleased to have it; it's been his toy and brought him a lot of joy. That's what I wanted and I was really glad to know it's in good hands. Even though I threw it to the mercy of the KQED (public television) auction, I'm glad it ended up in someone's hands that really, really appreciates it. They're taking care of it and I have visitation rights still! Maybe I'll use it in a video sometime.

Force: How would you describe a person who listens to Journey?

Steve: It seems like the fans that have been following all the musical endeavors that we individually and collectively have been through during the years are a special breed and quality of people who have an ear for music that is different than most. There seems to be a special kind of a passion for them to want something out of the ordinary, something different. They aren't necessarily all mainstream people, so they are individualists, and I like that. I think it's a special breed of people that live their life the way they want, and choose their music to fit their life. It's nice to meet these people on the streets because you can tell right off the bat that they are selective in what they do. I'm really happy that some of the things they do choose to select and enjoy is the music that we have been involved in. It's such a pleasurable experience to meet them

Force: It must be very inspiring to know that will all of the changes and all the things that have happened to Journey over the years, you still have a great solid base of followers.

Steve: It IS very inspiring. In fact, that reminds me of something a friend of mind told me. She had been watching television and 'Foolish Heart' came on. After the video was over, the VJ started apologizing for something he had said in regards of Steve Perry and Journey earlier on in the week. My friend wasn't sure exactly what was said as she didn't hear the original remark. Apparently, he (the VJ) made some negative remarks and got flooded with letters and cards from angry viewers. After the video, he was saying, "... and that was Steve Perry and 'Foolish Heart'. I'd like to apologize for anything I said before that might have been taken wrong. I was just joking, but apparently it wasn't taken that way judging from all the cards and letters I received. I really do like Steve Perry and Journey, and I didn't mean to say anything to offend anyone..." That whole thing just proves to me how great our fans area nd how much they do support us, no matter if it's and individual project or a collective one.

Force: What are the plans for Journey at this point?

Steve: The plan is that Journey is unplugged right now. At first Jon and Neal were thinking of going on with the name. Then we all talked about it and it was decided that we're just going to hold on and keep the legacy pure so to speak, to just let it be what it was and see what it will be someday. You never know. But right now there are no plans.

Force: You want to keep the possibility open so that the three of you can get back together for another album and tour and the opportunity is there?

Steve: That was the intention by not going on and letting someone carry on the name and change the singer. If you did that, I think the group would be a little bit difficult to return to. So, that's basically the positive end of it and we're just going to roll with it and see what happens. Life has no guarantees for anyone. You just keep all your doors open and see what happens when you get to that particular door. You just never know. There is so much health and well being that has to play in everything. People may not be healthy or well enough, or just may not want to... God forbid someone becoming tragically ill. You just never know what can happen in life, so the best thing is to keep options (pauses) and just live moment by moment, day by day.