FOR THE LOVE OF STEVE PERRY
This website is a tribute to Singer, Songwriter Steve Perry and his amazing career with Journey and as a solo artist.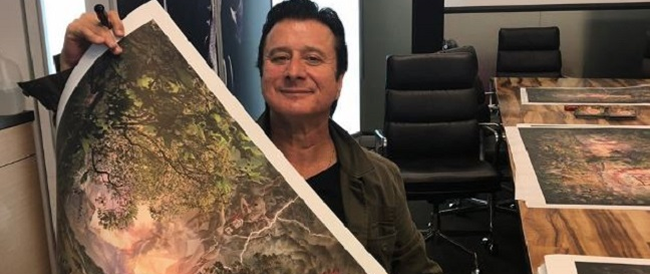 JOURNEY: Pop Star of The Month
Song Hits,
September 1978
Journey has broken thru the threshold of Infinity to the land of platinum. The group has continued to grow and change as time passes, evolving into a major attraction of the highest order. That process of natural selection has given us Journey's latest LP, Evolution.
Evolution is one more step in a series of five superb albums on Columbia. Infinity, Journey's last LP, was a marked departure for the San Francisco based group. Whereas their efforts prior to Infinity were primarily vehicles for their instrumental virtuosity, Infinity introduced a fresh new emphasis on vocals as well as the dynamic lead singer Steve Perry. Evolution takes the band one step higher by adding a more driving rock'n'roll sound to it.
With the departure of Aynsley Dunbar, Steve Smith, a truly talented drummer, was added to take care of the percussion chores. Smith has played with the likes of Phillip Catherine, Focus, Jean-Luc Ponty and most recently with Ronnie Montrose. He studied music at the prestigious Berklee College of Music. Now, after five years on the road playing every kind of music from swing to progressive jazz to rock, Smith has honed his craft. This 24-year-old Mill Valley, California resident will add further dimension and new energy and enthusiasm to the total Journey sound.
Bassist Ross Valory is considered Journey's "secret weapon". Mainly because he has one of the most infectious sounding basslines of any rocker. Another California native whose introduction to music was classical piano and guitar, Valory is a veteran of the Haight-Ashbury days of the mid-sixties. He became a well-known bay area musician when he joined Frumious Bandersnatch. He made his bones in The Steve Miller Band before joining Journey. Valory writes progressive material that will ultimately finds its way into the group's repertoire. Valory just recently received a "BAMMIE" (from BAM Magazine in Northern California) as best Bass Player of the year.
Gregg Rolie, who plays keyboards, is a superb artist in every sense of the word. He's another one whose reputation preceded him into Journey. An integral part of the first four Santana albums, Rolie now splits lead vocal chores with Steve Perry. He uses the new Prophet synthesiser along with his Yamaha electric grand, mini-moog and Hammond B-3 organ. One of the group's primary writers, he is also a superb arranger. Gregg is also great in concert. He has a rapport with his audiences that most any other artist would envy.
Neal Schon is a guitarist extraordinaire. His superb lead guitar work is definitely a key signature to the Journey sound. Schon had the distinction of turning down an offer from Eric Clapton when he opted to join Santana for their second, third and fourth albums. Though only 24, Schon has earned the highest respect from his work with Santana and Journey. He, like Valory, was awarded with a BAMMIE, as best guitarist of the year. In addition to writing for the band, Schon plays a wide variety of guitars including a Les Paul, telecaster, Stratocaster, Guild Acoustic, Peavey Double Neck and a Peavey solid body. An imposing figure on stage, Schon concedes that his days with the band are a far cry from his youth when he trained on oboe.
Steve Perry, lead singer for the band, has become an exciting focal and vocal point on stage and record. A California native (Hanford), Perry began his career as a drummer before gravitating towards singing and writing. A former member of ex-Vanilla Fudge bassist, Tim Bogert's band, Perry has always been an ardent admirer of Journey and was, of course, very excited about being asked to join the group. What has already been touted as an artist with dynamic stage presence, he continues to add new life and dimensions to the group.
Evolution, as well as the band's new stage show, will prove that Journey's roads will be paved with platinum for years to come. Producer Roy Thomas Baker (of Queen fame) and Engineer Geoffrey Workman have added some of their special talents to a sound that will surely eat the charts up in no time. This is definitely the most exciting Journey record to date. As with all things, this band continues to grow and evolve into a powerful recording and touring band. The funny thing about their newly found platinum success is that the Journey has just begun.
© Song Hits, September 1978, Charlton Publications Inc.