FOR THE LOVE OF STEVE PERRY
This website is a tribute to Singer, Songwriter Steve Perry and his amazing career with Journey and as a solo artist.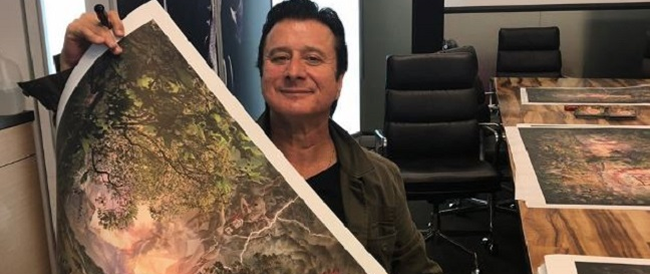 JOURNEY'S EVOLUTION ...THEIR WHEEL IN THE SKY LIGHTS UP
By Liz Lufkin
BAM Magazine
March 16, 1979
It's a sunny Thursday morning in early January, around 10 a.m., and Journey's lead vocalist Steve Perry is already hard at work in L.A.'s Cherokee Studios. Along with producer Roy Thomas Baker and engineer Geoffrey Workman, Perry repeatedly goes over the vocal overdubs for "Sweet and Simple," one of the songs for Journey's new LP, Evolution. This is Journey's important follow-up effort to Infinity, their first gold or platinum record, and they need to finish it in only a few days - the entire album is recorded in just eight weeks - so they can prepare for a world tour that will last up to five months.
All morning, the rest of the band wanders in and out of the sound booth, staying anywhere from 30 seconds to 30 minutes to listen and comment before returning to the coffee and pinball machines outside. That is, except drummer Steve Smith, who often sits near the window and silently drums along with the music, gazing intently at Perry. They debate about what kind of vocal style Perry should use in the song, and he sings his parts again and again, searching for the right sound.
"This guy sounds as if he's singing his guts out," I think around 11 a.m., while Perry concentrates on one particularly difficult part, the song's climax. Just then, Baker abruptly leans forward and says into the mike, "That's a bit tame, don't you think?" Although Workman has yet to hold up one of his amusing cardboard signs that say things like "Oh Prima! (Donna)," Perry agrees that is was a bit tame, and they rewind the tape for yet another take. Later in the day, Perry will admit that yes, he's something of a perfectionist.
Outside, the original members of Journey - Neal Schon, Gregg Rolie, and Ross Valory - sit down and recall the past six years since they formed the band in 1973. The feeling of success is not a totally alien experience for any of them. Valory played bass for Steve Miller; Rolie helped found Santana, playing keyboards and singing vocals on the bands first four LPs; and Schon's biggest problem at age 15 was deciding whether to play guitar for Eric Clapton or Santana (he chose the latter). Yet, after six years of grueling tour schedules and almost constant work, they are justifiably proud of Journey's achievements. Sure, Rolie may joke that he just loves having four whole days to himself each year, but they're all looking forward to the mid-March release of Evolution and the subsequent tour, mainly because there are still some places they'd like to conquer.
"Europe and Japan, for instance," says Schon with a smile. "New York!" exclaims Rolie. Quite clearly, this is a band that wouldn't mind becoming the General Motors of rock and roll. But although each person will express confidence that Evolution is the album that will put them in the spotlight like never before, it's hard to think of them as egotistical because in the next breath, each will say something like Rolie's "Of course, I'm slightly prejudiced."
For instance, when asked how it feels, now that they're "stars" with a platinum LP to their credit, Valory drawls, "Well, I never thought of it that way." Schon then adds more seriously, "Put it this way, would you rather have people go crazy when you do in-store appearances, or have no one show up? We used to make appearances and nobody would come. Now we can't get out of the place. It makes me feel great that people get that excited about us."
As for the impending tour, a relatively short one compared to last year's seven month excursion, Neal says, "We've laid all our groundwork during the past four years, why give it up now?"
Rolie agrees, and says, "The payoff will come back to you. I don't think you can do it unless you have a complete overnight success. Santana was an overnight success, and that was hard to handle."
Continues Schon, "Now we know what to expect when it starts to snowball, and I hope that's what will happen. This is the second time around for us, and it's ours."
Journey's long story actually goes farther back than Santana, all the way to the mid-'60s, when at age 16, Herbie Herbert managed a band named Frumious Bandersnatch. Ross Valory, who grew up in San Francisco's East Bay playing clarinet before he picked up a bass guitar, was in that group. Around 1968, Gregg Rolie, formerly with William Penn & His Pals, helped a then-unknown guitarist named Carlos Santana put together a group that would soon explode onto the national scene. Frumious Bandersnatch broke up, Herbert wound up as Santana's production manager, and Valory went on to play bass for various Bay Area groups, including the Steve Miller Band.
During this time, Neal Schon was still in San Mateo high school. The son of a music teacher who played clarinet, he had started out on saxes, oboe, and clarinet but "I wanted to play the guitar and I finally got my way." By 1971, Schon had met Carlos Santana and after sufficiently impressing nearly everyone he played for (including Eric Clapton, who asked him to become a member of his band just before Santana extended the invitation), he chose to join Santana at the tender age of 15.
What happened thereafter remains a bit of a mystery, since Schon and Rolie refuse to discuss Santana in much detail. Herbert, now Journey's manager, worked for Santana at the time, and his version is that Carlos Santana became conceited and impossible to work with, especially after Schon began stealing critical attention from the master guitarist. But, needless to say, Herbert is an avowed Journey fan. Schon barely alludes to Santana's ego problems; the harshest thing he says is "I started getting some good reviews," before his voice trails off.
In general, Schon and Rolie don't particularly feel like talking about the breakup "mainly because there's still a lot of people who say that anything we got that was any good at all, we got from Carlos. That's total bullshit!" exclaims Schon. "Even though I like Carlos, and I learned something from him musically, it's not as if I didn't know anything when I first joined the band."
Says Rolie, "Talking about Santana screws up the whole concept of everyone in this band. A lot of people would come to see us and expect conga drums. The last thing I want to see for the rest of my life is conga drums!" he says, laughing. Schon also points out that since both of them did play in Santana, they obviously had something to do with the band's style. Rolie's distinctive vocals, for instance, would naturally remind listeners of the early Santana sound, because they played an important part in it.
There are still a lot of interesting rumors, stories, and gossip - a mixture of both truth and fiction, no doubt - circulating about Schon's and Rolie's behavior during their time with Santana. In those days, drugs, women, and trashing hotel rooms were considered de rigueur for famous rock bands, and Santana's reputation kept up with the best of them. Schon himself will admit "Sure, I made a lot of mistakes. I just learned from them." The fact that he still plays music after experiencing such heady fame and all the pleasures (or vices) it makes available while only a teenager, attests to that.
The same holds true for Rolie, who now expresses a desire to have a long career rather than to take the money and run. "I goofed along with the best of them," he says, "but it doesn't get you anywhere. . . Sure, we get tired and crazy, but we have control. There's food fights in the dressing room once in a while, but we never make it uncomfortable for other people. Don't get me wrong, we all have our off days, but we do try to be a little bit polite."
When the original Santana group disbanded after a national tour in 1972, it was Herbie Herbert who approached Schon with the idea about putting together a band with Valory, a friend since their Bandersnatch days, and a rhythm guitarist named George Ticker. Prairie Prince, now with The Tubes, agreed to play drums, so the band only lacked a vocalist.
"Gregg wasn't doing anything," recalls Schon. "He was up in Seattle - because he had just taken off - so we called him and then formed the band. It wasn't contrived, not like we were in Santana and decided to leave for another group."
Their first gig took place in San Francisco on New Year's Eve, 1973. The next day, thanks to some complicated maneuvering, they played in Hawaii, a move that certainly proved an omen for their strenuous touring schedules to come.
After the first two shows, Prince realized that the band would need a full-time drummer, so he bowed out because of a stronger commitment to The Tubes. By early 1974, virtuoso drummer Aynsley Dunbar agreed to join Rolie, Valory, Tickner and Schon in the new band.
The group had already signed a contract with Columbia Records back in 1973, yet by the time of their first shows, they still didn't have a name. So, after a KSAN-sponsored name-the-new-band contest, they supposedly chose the name Journey from a suggestion made by one Toby Pratt of Milpitas.
(Well, not quite. After all these years, manager Herbie Herbert would like to confess that actually John Villanueva, their office manager, came up with the name. Rolie recalls that after getting entries like "Rumpled Foreskin," they leapt at Villanueva's idea, which seemed to fit their concept of the band. He then pretends to break down, crying, "I'm tired of this lie, go ahead and tell everyone!!" So much for juicy gossip.)
The first LP, Journey, came out in 1974, and the group began what would become the first of four years of intensive touring to increase critical acclaim and FM cult popularity. George Tickner left the group shortly after the album's release, apparently because he was not interested in performing. Interestingly enough, there is one cut on Journey that sounds especially like Santana: Journey's "Topaz" recalls Santana's "Song of the Wind," thanks to some distinctive guitar playing. Yet, it is also interesting to not that Schon says both he and Carlos played guitar on "Song of the Wind".
The rest of the record is progressive rock-oriented, with songs such as "Kohoutek" and "Mystery Mountain," cover art that depicts the space-suited band landing on a different planet, and an admonition on the inner sleeve that reads, "We suggest that you play this record at the highest possible volume in order to fully appreciate the sound of Journey."
Journey released Look Into The Future in 1976; the band's sound had already become more melodic (commercial, if you will), and the group's popularity had grown. Gregg Rolie's vocals played an increasingly important role, as "Saturday Night" and the title cut became FM favorites, but the long, fiery guitar solos and instrumental jams from the first record remained.
Around the time of Look Into The Future, Ross recalls that a vocalist named Steve Perry approached the band and asked if they needed a singer.
"We were still more instrumentally inclined then," says Valory, "so we weren't interested in him."
However, a year or so later, some time after Next came out in 1977, Valory says that they began to like the idea of adding a vocalist, having a front man who would able them to concentrate on more harmonies, soloing, and the audience. For a brief period, they worked with a singer named Robert Fleishmann who also helped write a song for 1978's Infinity, the album that pushed them into the limelight and made their shifting musical approach evident. However, they ultimately asked Steve Perry to join as a vocalist.
"Robert was good in helping us decide that having a person out front was the right idea," says Schon. "He just wasn't the right person."
Besides adding a lead singer for their fourth LP, Journey for the first time recorded part of an album in Los Angeles, aided by producer Roy Thomas Baker (then known mainly for his work with Queen). The changes resulted in two songs off Infinity, "Wheel in the Sky" and then "Lights," making a showing on the AM charts, giving Journey their first gold and platinum record.
The thought of having some successful singles "crossed our minds," says Schon. "We felt, 'All right, it's time to go.'" Explains Rolie, "Single success has a lot to do with the success of a band, and we are in business - it takes money to run it." The way Valory sees it, their material these days "is a reflection of what most people want to hear," although that doesn't necessarily mean that Journey has "sold out" since he says he also enjoys their songs. As Ross points out, "Anything that is done is commercial - it's just a matter of how large the audience is."
And that audience plays a great role in Journey's sound, according to Rolie, who says, "If you forget about your audience, you might as well go play in a garage. That's terrific, too. But, if you're playing for people, people want to hear a certain thing, and you've got to give them that.
"I enjoy the songs, I enjoy their energy," he adds. "I'm totally pleased. Otherwise, I'd just stay home and play for myself."
Commercial is a misused word," maintains Steve Perry a few hours later, after finally completing the vocals for "Sweet and Simple." "I don't see how you can use that word pertaining to music that catches on because people like it. If you've got to tie it into a monetary value, I'd say successful would be the word to use. And what's wrong with being successful?" he asks. "You could rephrase that question and say, 'Are you concerned now that your music is more successful?'"
When pressed, Perry will somewhat bashfully admit that he's always planned on becoming successful in rock and roll. By age 13 he was playing and singing in rock and roll bands in his hometown of Hanford, California, leaving for Los Angeles at 18. He moved to San Francisco, and then Sacramento, before returning to Los Angeles once again, this time to form a progressive rock band with Tim Bogart (from Beck, Bogart, & Apiece). That failed to get much favorable attention from the record industry, so Perry then formed a group that included drummer Craig Krampf (now with Nick Gilder).
Within only a few weeks, the group made a demo that did get favorable attention, and after causing "a bit of a buzz," as Perry puts it, they planned to begin negotiating a record deal after 1977's Fourth of July weekend. However, their bass player was tragically killed during that holiday, so Perry found himself without a group once again. However, people at Columbia (Journey's label), told him that Journey wanted a lead singer, so Perry sent Herbie Herbert the demo tape.
Ross Valory remembers, "After Herbie received the tape, we all heard it, were quite impressed, and invited him to come on the road with us to hang out and play with some ideas." Perry joined them in Denver, and proceeded to write, with Schon, "Something to Hide" and "Patiently," two tunes that wound up on Infinity. When the tour ended, Perry returned to San Francisco rather than his home in Los Angeles to stay with the band, and together with Gregg Rolie he wrote "Feeling That Way." Shortly afterward, Journey asked him to join the band permanently.
The first month of the Infinity tour proved slightly difficult for Perry, who remembers getting flipped off in a few towns by stone-cold Journey fans. But when they returned a few months later to the same towns, "We'd made our point," says Perry. "It was the same band Journey, just an extension with a new member."
Considering Perry's dynamic stage presence, it is a small wonder that Journey's fans had much trouble accepting him. After all, this is a person who would wire himself and fly out over the crowd to the back balcony if he had his way, that's how much he wants to connect with the audience.
"There are so many people, you can only try to reach them," says Perry. "The only way I know how is to give it all I got in that limited stage area. I try to generate enthusiasm and the feeling that I'm trying to talk to them.
"I'm truly a workaholic," he confesses. "There's nothing else that makes me as happy as the musical aspects. Well, there are a few things on the side. . ." he amends with a smile.
Although Perry added his considerable vocal and performing skills to Journey's sound just before the band achieved their greatest success, he denies that he is the sole reason for their spurt.
"I'm as much a part of it as everyone else," he says. "I could say, 'It's me!' but that would be incorrect." According to Perry, everyone wanted to make the change in style. In fact, that's why they toured seven months last year. "We had to make a statement. It was a point to play everywhere, to let people know we had made a change, that they wouldn't be able to ignore us anymore. And they're not ignoring us."
However, drummer Aynsley Dunbar ultimately did not agree with the alteration in musical direction. Perry seems slightly surprised when asked if Journey fired Dunbar because of ego clashes between the two, insisting, "It was merely on a creative basis. Aynsley is a great drummer." The rest of Journey agrees with Perry, saying that basically Dunbar's style proved a bit too jazzy for their tastes. As Rolie tells it, "The way I looked at it, Aynsley wanted to play a different kind of drums." And Schon explains, "We would talk about it, and he'd say he'd be willing to simplify things. But we'd get out there, and after five shows he wasn't doing that at all."
Dunbar, now with Jefferson Starship, didn't exactly take his dismissal cheerfully, and in a recent interview, he accused Journey of not understanding his playing. "They thought I was trying to prove I have technique," said Dunbar.
Of course, it is possible to see how egos could become a factor. After all, here was a band that wants to "settle down and get a groove going - something very danceable as well as interesting," as Rolie puts it, telling one of the world's better drummers what to play.
In any event, despite the less-than-kind things Dunbar has said about the band, both on and off the record, all members of Journey have nothing but praise for his drumming, and they staunchly refuse to discuss anything critical of Dunbar. As Herbie Herbert says, "I spent five years managing that guy. It's kind of hard to stop now."
Steve Smith first got to know the members of Journey in 1978, when he toured with them for three months as part of Montrose, Journey's opening act. Perry remembers how they'd watch Smith during his drum solos, and think, "Wow, this guy is great!" However, because Dunbar was still in Journey, Smith says he became good friends with the band, but never considered joining them.
"We would hang out together and just kid around, you know, 'Maybe someday we'll start a band,'" says Smith. "It was really casual, nothing serious."
A classically trained musician who studied at the Berklee School of Music in Boston, Smith first started playing professionally at age 19, with Buddy De Franco's big band. One day in 1976, he received an invitation to play with Jean-Luc Ponty, which he did until early 1978, when Ponty fired him along with half the band. Smith moved to Los Angeles looking for work, and successfully auditioned for jazz trumpeter Freddie Hubbard's band. He also successfully auditioned for Ronnie Montrose's new group, and after some soul searching he decided to play rock and roll for a change.
It was a difficult choice," says Smith. "I really wanted to play with Freddie, because he's a great trumpet player. But what I learned from playing with Jean-Luc was that I didn't want to be just a sideman. Ronnie approached things like a band."
When Montrose failed to meet with much success, the group disbanded, and Smith found himself back in Los Angeles, planning to work with either a new version of Montrose or Alphonso Johnson. Instead, Journey fired Dunbar in August, asked Smith to join, and he gladly accepted.
Some drummers might have felt slightly uncomfortable following Dunbar's formidable reputation, but Smith cheerfully says, "That was the last thing on my mind. I was more concerned with playing music." Nor does he think it odd that he has a strong jazz background, even though Journey asked Dunbar to leave because his playing was "too jazzy" for Journey's sound.
"When I joined the band, I knew I'd need to learn a lot," explains Smith. "I want to know how to play everything. I've slowed down a lot, made my style more open, and concentrated on a good, steady rock-solid feel - a real energy everyone could walk off."
Not surprisingly, his fellow band members find that style quite compatible with their new material. In fact, Perry thinks that their new record, Evolution, will succeed in no small part thanks to Smith's drumming. And his rhythm section partner Ross Valory jokes, "Nine out of ten bass players recommend Steve Smith."
Despite various personnel shifts, Journey has managed to keep a consistent attitude toward the music business. Their management company, Nightmare Productions, may have a rather unusual name, but as manager Herbert explains, "We call it Nightmare because the business tends to be that way, it's not the way we want it to be." Herbert will talk enthusiastically for hours about how Journey strives to do things a bit differently, whether it's in terms of their extensive business arrangements (including endorsements for Peavey Instruments and Budweiser beer, the fact that Herbert's wife runs Journey's successful travel agency, or their insistence that Journey merchandise only "quality" fan products), they way their road crew has medical coverage and life insurance (an extremely unusual occurrence), or the rigorous exercise program the band recently adopted at Herbert's suggestion to keep in shape. He wasn't called "a guy with the greatest sense of street smarts I've ever seen" by a long-time rock and roll observer for nothing.
Other members of the Journey staff speak of their work not as a job but as a "cause," something that is part of a "family." "It's something we think about all the time," says road manager Pat Morrow, who emphasizes, "We try not to lose sight of what's really important, and that's people." In fact, call it "good karma," "the right vibes," or whatever, but both Herbert and the band say they're sure their attitude has more than a little to do with Journey's success today.
"What goes around comes around," says Valory seriously. For instance, "Just because we hardly ever got sound checks when we first started out doesn't mean that has to happen to our opening acts."
Gregg Rolie remarks, "I know it sounds a bit weird. I hate the words 'good karma' myself, but their meaning is great. . . who ever set up the music business so that everything became so disgusting? I've always had the feeling that there was plenty for everybody, and there's no need to rip anyone off," he continues. "Besides, you may end up with a ton of money, but no friends at all, because you're such a complete jerk."
Given the way they feel about the business, and the way they like each other, it's doubtful the members of Journey will ever have much problem in the friendship department. For example, shortly after returning from that successful but grueling Infinity tour, Schon managed to talk the band into playing a benefit for his high school - it seems the marching band desperately need new uniforms.
"Off and on, we get the comment from people, 'Wow, you guys get along so well,' as if it's not common at all," says Valory. "That may be the main element in our success; we do like each other. We don't feel lacking as a group because we all have confidence in each other, and we'll back each other up." According to Smith, that feeling alone had quite a lot to do with him joining Journey in the first place.
In fact, on the eve of Evolution's release and Journey's world tour, it is hard to resist their infectious enthusiasm. Besides, musical talents aside, it's good to know that nice guys don't always finish last. As Steve Perry says, "If we continue to play the music we like and it goes over, then everybody is going to be happy."
© BAM Magazine, March 16, 1979 (transcribed by Kate)