FOR THE LOVE OF STEVE PERRY
This website is a tribute to Singer, Songwriter Steve Perry and his amazing career with Journey and as a solo artist.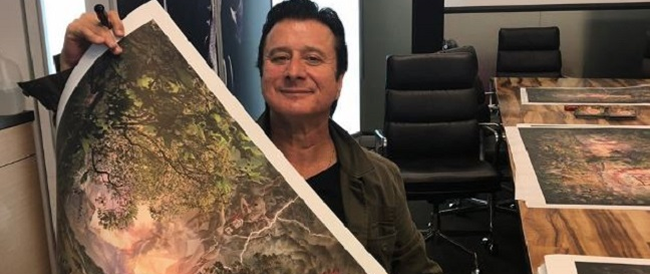 Some photos courtesy of Google + Photos *Photos used by permission*
Trial by Fire is the tenth studio album (eleventh overall) by American rock band Journey. Released on October 22, 1996, the album marked the reunion of the classic 1980s lineup, which had not recorded together since 1983's Frontiers. Trial by Fire was produced by Kevin Shirley, who continues to produce the band's albums until now.

Trial by Fire includes the Top 20 hit and Grammy nominated single "When You Love a Woman", which reached No. 12 and No. 1 on the Billboard Hot 100 and Adult Contemporary charts respectively. "Message of Love", "Can't Tame the Lion" and "If He Should Break Your Heart" were released as singles and received radio airplay.

The album reflected a growing maturity with the members of Journey and could be loosely termed a concept album with many tracks reflecting a more overt spirituality in lyrical content. The title track, for example, is taken directly from Paul's Second Epistle to the Corinthians.

Trial by Fire was Journey's last album featuring vocalist Steve Perry and the only one to not accompany a supporting tour. That was due to internal disputes over a tour (originally scheduled for the summer and fall of 1997), as a result of Perry's hip injury as he prolonged getting the necessary surgery. If the band had toured, the tour wouldn't start until over a year after the album's release. Perry left the band feeling that he was being forced out over his mulling over his decision to have the necessary surgery and because of the other band members' pressure to tour sooner than later. Drummer Steve Smith also quit citing that the band without Perry didn't interest him.

On November 9, 1996, the album peaked at No. 3 on the Billboard 200 and was eventually certified platinum in the United States by the RIAA.